This guide to camping in Columbus Ohio is brought to you by Primus, the makers of camping stoves that suit every adventure— from weekend car camping jaunts to longer treks into the backcountry.
---
At least once a year since the late 1980s, my family and I have racked up countless hours traveling up and down I-75 from my hometown in the foothills of the Appalachian mountains to Columbus, Ohio. Back then I associated the Buckeye State strongly with orange barrels and endless highway construction, with peculiar foods like Skyline chili and comforting treats like Graeter's ice cream. Outdoor recreation wasn't on our radar as much as getting out of the car and grabbing a bite at Max & Erma's.
As my cousins and I grew up, though, we started exploring further and further outside the suburban neighborhoods surrounding CBus (as the locals affectionately call it) proper. What we discovered are the same qualities cultural critic Chuck Klosterman observed when he called Columbus, Ohio "a low-altitude Denver." This apt, if unexpected, description that captures the city's topography (minus any proximity to the front range of the Rockies), its proclivities for beer, higher education, and its reputation as a rapidly growing millennial magnet.
There is 'So Much to Discover' When Camping Near Columbus, Ohio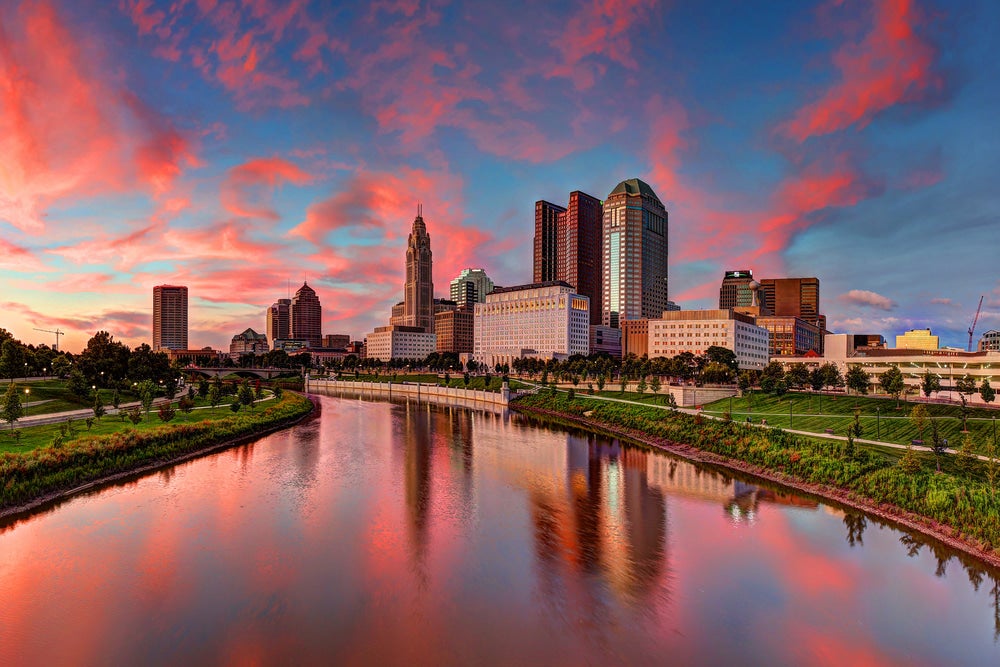 In fact, Columbus might just be one of the best kept secrets not only of the Buckeye state, but of the whole midwest and beyond. Close to half the U.S. population lives within 600 miles of Columbus, and it sits within a day's drive of not only Lake Erie, the Allegheny Mountains, and a variety of rivers, but also Atlanta, New York City, and Chicago.
And though Columbus might not have the varied, vertical terrain of other outdoor playgrounds, thanks to the enormous glaciers that ground central Ohio down two million years ago until it was pancake flat, it's absolutely a fantastic place to get outside. Here you have a home base from which you can drive in any direction from the city center and arrive in a very different landscape just a few hours later.
11 Top-Rated Campgrounds Near Columbus, Ohio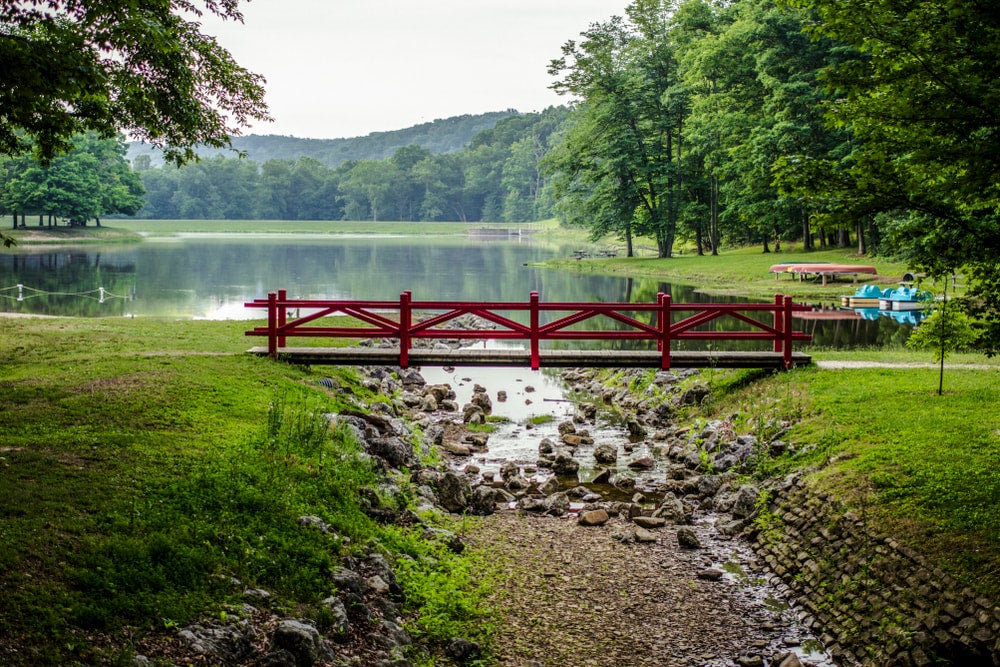 Outdoor enthusiasts have lot of options both further afield and closer to home, from rock climbing and rappelling in Hocking Hills State Park to paddle boarding the Vermillion and Olentangy Rivers to kayaking Lake Erie to caving in northern Kentucky to camping out under the stars in Alum Creek State Park. In six hours or less you can be section or thru hiking the Appalachian Trail, the Buckeye Trail, or the North Country Trail. Or, if you stay in the metro area, you can be enjoying a game of disc golf or exploring area mountain bike trails before you can say "Columbus Clippers".
To help you narrow down all your outdoor options in the heart of the Buckeye state, we rounded up twelve destinations for camping near Columbus, Ohio where you can take advantage of the best the Buckeye State has to offer, whether you prefer tents, RVs, or cozy cabins.
Agriculture has always been a big part of Ohio culture, and that tradition is still true today. Get a taste of life in farm country close to Grand River and just thirteen miles from Lake Erie at Sawdust Farm Camp. Named by naturalist and writer Isabelle H. Klein for the sawdust that used left behind by logging operations before the 1960s and 70s, now this spot is a 400 acre nature preserve created in conjunction with the Natural History Museum of Cleveland.
You can rent the Moonshine Cabin at Sawdust and soak up that second-growth magic for yourself. This cozy one-room cabin is equipped with a wood cookstove, ENO hammocks, cooking utensils, propane Colman camp stove, and sleeping space for 4. Just down the hill is a creek, as well as trails throughout the preserve.
There's even more to do in the broader Geneva On the Lake area. A short drive away are dozens of vineyards and tasting rooms on the Lake Erie Vines & Wines Trail. There are also the 19 beautiful covered bridges Ashtabula County is famous for. And You're in prime territory for bird watching, boating, fishing, and cycling. And at just $32 a night at Sawdust Farm Camp, this is a getaway that won't break the bank, either .
Book Now
Designated in the 1970s after Alum Creek was damned as part of a flood control project, this state park is just thirty minutes outside of downtown Columbus, and even closer to the suburbs of Dublin, Westerville, and Worthington. Thanks to the newly formed Alum Creek Lake, the state park quickly became a destination for weekend boaters and picnickers, as well as campers looking for a quick getaway.
There's a lot of history here that predates when Alum Creek became a state park, however. Before the Civil War, Alum Creek was an important branch of the Underground Railroad. The stands of hardwoods lining the creek included ghostly white sycamore trees, which were easy to follow even in the dark, while the creek itself provided cover from tracking dogs. In fact, the nearby community of Africa was home to several safehouses on the Underground Railroad, providing crucial shelter on the way to Canada.
The landscape looks much different now, but there are still plenty of trails that lace Alum Creek State Park, including those for hikers, mountain bikers, and equestrians. Those include the Hollenback Hiking Trail, two different cross country singletrack paths for mountain bikers (one rated specifically for novices), the Hunter's Hollow bridle trail, the Maple Glen bridle trail, and the Winterhawk bridle trail.
The campsites a nice, too, with sites for tents and RVs, beachfront on the lake, electric hookups, a dump station, boat launch, playground, basketball court, nature center, and nice community activities like weekend pancake breakfasts. The sites are nicely shaded, and there are certainly enough trees to give hammock campers plenty of options. And because you're camping near Columbus, Ohio, you're a short drive from Cabelas, Field & Stream, and other shops if you forgot a crucial piece of outdoor gear.
"This was the only park we've gone to this year with both a large dog park AND a fenced in dog beach! Folks were friendly at the dog park with bunches of chairs set around like a conversation pit. The dog beach was fenced so your dog can be off leash. There is even a fenced in area out in the water to keep the pooches from swimming across the lake chasing geese." –The Dyrt camper Gary J.
This Ohio State Park was named for what white settlers called the Lenape Indians, whose territory originally included the east coast around what is now New Jersey, New York City, and Pennsylvania. Pushed west before and during the Revolutionary War, many Lenape settled in what is now Ohio, bringing the name "Delaware" with them.
A lot of history took place here, from a rebellion lead by the great Chief Pontiac to the Northwest Indian War to the War of 1812. There are several former taverns, farmhouses, and inns in the area on the National Register of Historic Places which date back to the days when Ohio was still the frontier, laced with wagon trails and stage coach stops. And then there is the State Park itself, created in 1952 by damming the Olentangy River to create Delaware Lake.
That means that like Alum Creek State Park, Delaware State Park is a fantastic spot to go boating and camping less than forty miles from Columbus, Ohio. It's home to second growth stands of beech and maple, ducks, pheasants, and deer that appeal to hunters, and the bass, crappie, and muskellunge sought by anglers.
There's a little something for everyone at Delaware State Park, not just sportsmen. There's also hiking trails, a nature center, 18-hole disc golf course, archery range, swimming beach, and a camp store where you can rent bikes and other gear. Campers can make use of RV sites, tent sites, or even furnished yurts. And with hundreds of sites available, you'll be able to find one that feels just right.
"There are plenty of hiking/biking trails for you to get out and explore the park. Many of the trails link together so you can decide how long you want to hike. The Lakeview Trail was perfect for us. The nearby town of Delaware is really nice with downtown shopping, restaurants, a historic theater and brewery. Stass Brewing Company has great Belgian-style beer with a fun atmosphere." –The Dyrt camper Nancy W.
Once upon a time, the river plains between Columbus, Cincinnati, and the Kentucky border were richly forested, thanks in part to rich sedimentary deposits left by glaciers millions of years ago. Those glaciers effectively sanded Ohio flat between the Allegheny/Appalachian mountains to the east and the Bellefontaine Outlier to the west— the later being, essentially, a pile of glacial detritus much taller than anything around it.
Nestled in that broad, level expanse of meadows, prairie, and wildflowers is some of the prettiest countryside in Ohio, preserved in Deer Creek State Park. Three season of the year, this part of Ohio is strewn with Dutchman's breeches, trillium, bloodroot, jewelweed, daisies, goldenrod, and aster. Wildlife is abundant, home to opossums, rabbits, larks, sparrows, and even rare bluebird populations.
Like Alum and Delaware Creek State Parks, there's a big emphasis on boating at Deer Creek, which features a full marina with boat and dock rentals, a protected swimming area in a cove, and lots of fishing. Sportsmen will also find hunting blinds available by lottery, an archery range, mini golf, eighteen hole disc golf course and an eighteen hole regular golf course. There are 17 miles of bridle trails for horse enthusiasts, as well as over six miles of hiking trails. During the winter, those bridle trails turn into paths for snowmobilers, while the lake converts to ice fishing and skating.
Deer Creek State Park has 232 electric sites with showers, flush toilets and a dump station, two group campsites, a horse camp, cabins, and a lodge. Campers who stay in the lodge or cabins also have access to tennis courts and bike rentals to further explore the park.
You can even rent a cabin that is included on the National Register of Historic Places thanks to its ties to President Warren G. Harding, who used it as a retreat for his inner circle, a group known as "the Ohio Gang," who were later caught up in the Teapot Dome scandal that involved bribery over oil fields in Wyoming.
"Between lot I believe 166 & 167 is a trail to go down to a small spot. Probably enough room for 2 small families or 1 large family to fish. It is pitch black so bring headlamps or/and lanterns oh and mosquito spray! We liked it so much that we are going again and getting a site close to the fishing spot so it's just a short walk to it!" –The Dyrt camper Melissa M.
Like many of the other campgrounds on this list, A.W. Marion State Park was developed in the mid century by damming Hargus Creek to form a new lake. Unlike the others on this list, however, Hargus Lake is designated Paddle Ohio Waterway, along with such celebrated lakes, creeks, and rivers as the Little Miami National Scenic River. If you paddle just four of the waterways on the Ohio Department of Natural Resources' list, you can get a special commemorative Paddle Ohio pin.
That's not the only thing to recommend A.W. Marion State Park, however. It's been recently updated with niceties like flush toilets, cell phone service, a camp store, and even an outdoor theater for occasional movie nights. There are spots for tent and RV campers, with 28 electric and 28 non-electric sites, as well as two group camps and a day use pavilion. You can also circumnavigate Lake Hargus either on foot or by bicycle thanks to a loop trail of several miles.
In addition to camping near Columbus, Ohio at A.W. Marion State Park, you can also check out the nearby Slate Run Living Historic Farm, where you can see what life was like in late 1800s Ohio. For a fancier glimpse into the past, visit Adena Mansion and Gardens, which were built in 1807.
Also just thirty minutes from A.W. Marion State Park is Lancaster, Ohio, where you can see the house where William Tecumseh Sherman was born, decades before his infamous March to the Sea and burning of Atlanta during the Civil War. Lancaster is also home to the Double Edge Brewing Company, if you want to grab a tipple before heading back to the campground.
"The campground is relatively small, but it was nice! We were there as the leaves were changing and it was great! Our Sprint and Verizon hotspots both got great service here too. We were happy with this campground!" –The Dyrt camper Bounding Around
Ask most Columbus residents, or another in eastern Ohio, what place is most synonymous with the great outdoors, you'll probably hear references to Hocking Hills State Park. The terrain is a noticeable departure from central Ohio's flat expanses of glacial till. Instead, Hocking Hills is carved out of thick layers of hard black hand sandstone, a type of rock found only in Ohio.
Over the millennia, the strong river systems draining out of the Appalachian mountains wore caves, gorges, and waterfalls into that sandstone, creating a variety of geologic features that have been attracting tourists and hikers for over a century. Old Man's Cave, in particular, is a popular destination, as is the fabled Devil's Bathtub blue hole.
There's a lot to keep you busy here— enough that we wrote a whole article just on things to do and where to camp in Hocking Hills. There's the brand new John Glenn dark sky park, one of the few of its kind on the East Coast, and certainly one of the few so close to a major metro area. There's mushroom foraging and, if you don't fancy the DIY approach, restaurants serving up ultra-local produce like ramps and morels, such as Kindred Spirits. There's rappelling, ziplining, and rock climbing. There are stellar breweries, and even a moonshine distillery.
With all that on the table, it's just a fun bonus that Hocking Hills State Park not only provides camping near Columbus, Ohio (not to mention cabins), but that it's recently renovated, too. That's an especially good thing considering how high-demand Hocking Hills can be in the high season, thanks to its proximity to not only Columbus but also Cleveland, Ohio, Pittsburgh, Pennsylvania, and even Baltimore, Maryland. It's a good idea to make reservations in advance, especially if you want your choice of tent or RV sites.
"We have camped here in tents many times over the years. The state park campground is above par compared to others in the Ohio system. The naturalists are great and run many programs even in the off seasons. Fall is the best season, the foliage is awesome. Campground has an outdoor pool." –The Dyrt camper Leon H.
Picture this: Columbus, Ohio camping out of the way of the urban sprawl, where suburban neighborhoods still fade into soybean fields, which in turn give away to woodland meadows. That's what you find at Back 40 Campgrounds, a comfortable, family-friendly RV campground an hour outside Columbus. It sits on 34+ acres of rolling hills with two ponds. Spacious campsites allow you to stretch out without intruding on your neighbor.
"This is a great campground. The sites are large. Most have water and electricity. Nice amenities like a clubhouse with pool tables, clean flush toilets and shower areas, a nice small lake for swimming. It is off the road and well marked on the road but my GPS had the address about 1/4 mile away from the entrance. The hosts are very friendly and extremely helpful." –The Dyrt camper Bret J.
If you like a Columbus, Ohio camping destination with a lot of family-friendly activities to keep all ages busy, head to Cross Creek. They have tennis, volleyball, shuffleboard, hiking, wagon rides, scavenger hunts, bingo, bocce, corn hole, basketball, a pool, and more. There's even gaga ball— a kinder, gentler version of dodgeball that was born in Australia in the 1960s and eventually made its way to American Jewish summer camps before trickling down to midwestern playgrounds and campgrounds all over the country.
In addition to all the man chances to join in, Cross Creek Camping Resort brings the community together with themed meal nights, pancake breakfasts, tie-dye workshops, boat and bike rentals, and more. It's easy to see why this spot attracts so many full-time campers and loyal regulars who return season after season and holiday after holiday.
"Staff was very nice. Nice pool. Lots of activities for kids. They were well stocked with RV stuff in store. Bathrooms were clean. Cell phone reception was very good. WIFI was not too good. Lake is close by and grocery store is 10 minutes away." –The Dyrt camper Lisa H.
Just twenty minutes north of prime Columbus Ohio camping, this Columbus adjacent destination is just twenty minutes away from a wealth of attractions, from the Columbus Clippers baseball diamond in the stadium district to COSI science center, the Columbus Zoo, the brewery district, and all the shops and restaurants that have made the Short North a foodie destination. Pay a visit to fun spots like the North Market—where you can try Himilayan dumplings called momo ghar—to Jeni's Splendid Ice Cream for unique flavors, or North Star for the best beet burger of your life.
After stuffing yourself silly on Dirty Franks' hot dogs (try the Slappy Pappy's Super Sloppy) and beers from Land Grant Brewing and Wolf's Ridge, head back to Tree Haven for a well-deserved respite in nature. Tree Haven has been open since the 1970s, inspired by the owner's frolicsome childhood in central Ohio. The emphasis here is on RVs, although tent campers are very welcome, too. Each site has electricity, mostly 30amps with a few 50 amps here and there. WiFi is offered by the office, there's a pool open from Memorial through Labor Day, and pets are allowed.
"Last summer, I went there with my husband and mother. I found a family-friendly environment there. We stayed for more than four days there, and the experience was outstanding. I felt like I am in heaven, especially campfire at night took me into the world of fantasy." –The Dyrt camper Eden
Southeast of Columbus and Hocking Hills, close to the West Virginia border, sits Lake Hope State Park. A hundred years ago, this area was dotted with iron mines, though they've happily been replaced with second growth oaks and hickories that shade festive orchids like yellow lady's slipper, along with wild geraniums, bloodroot, and blue-eyed mary.
You can explore as much as possible of this lovely landscape on one of the park's many moderate trails ranging from half a mile (the Buzzard Cave Trail) to 3.2 miles (the Hope Furnace Trail), or by tackling the whole 29 mile Zaleski Trail backpacking trail, a convenient loop. There are also eight mountain biking trails, ranging from moderate to difficult, and thirty one miles of bridle trails for horseback explorers.
Lake Hope itself is open only to boats that are paddle-powered or have electric motors, so you can enjoy kayaking or paddle boarding without having to worry about big wakes. You can rent canoes, kayaks, water bikes, and pontoon boats at Lake Hope State Park, too, so it's easy to make the most of the water even if you don't have your own watercraft. And like many state parks, Lake Hope has a lodge where you can grab a delicious dinner, as well as take part in exciting nature programing. One favorite last year was an experience that involved hand-feeding hummingbirds.
"The campground has been recently updated, new pavement on the road and in the campsites. The nature center runs a lot of programs, including hand feeding hummingbirds, Christmas trail of lights, movies, hikes and more. The dining lodge is excellent food, the Sunday Brunch is great and they have a wood fired pizza oven." –The Dyrt camper Leon H.
Believe it or not, Ohio has the sixth highest horse population in the United States, alongside western states with rich ranching legacies like Texas and California, not to mention Kentucky with its famous Derby. You can thank the Buckeye State's large Amish population in part for there being so many equestrian trails in Ohio, as well as horse-friendly campgrounds like Stacked Stones.
Close to Hocking Hills and Old Man's Cave, this Columbus Ohio camping destination has access to waterfalls, gorges, and a unique natural feature called Airplane Rock. This overhang looks like the nose and wings of an aircraft jutting out over Crane Hollow. It's a funny geologic coincidence in a state known for its aviation history. Orville and Wilbur Wright hailed from Dayton, Ohio, long before their historic flight in Kitty Hawk, North Carolina. Ohio has also produced more astronauts than any other state, including Neil Armstrong, the first man to walk on the moon, and John Glenn.
You can hike to Airplane Rock from Conkle's Hollow State Nature Preserve at 24858 Big Pine Rd, Rockbridge, OH. That will also put you very close to some of the best rock climbing and rappelling crags in the Buckeye state. Over 90 acres have been set aside especially for climbers at the Hocking State Forest Rockclimbing and Rappelling Area. If you want to practice your technique ahead of time, head to one of Columbus' rock climbing gyms like Kinetic Columbus or Vertical Adventures.
Back at Stacked Stones, you'll find a mix of tent sites, RV sites, and cabins with options for either electricity or more rustic accommodations. RV and cabin sites include one horse in pricing, with the option to add additional guests and pets for $10 per day. Other pets are allowed on a case by case basis. In addition to booking the campground nightly or weekly, you can also book for monthly, seasonal, or over winter spans, too.
You'll find another aspect of Ohio's perpetual affability and hospitality here, too— Stacked Stones Retreat is GBLTQ friendly. That's great news for members of Columbus' growing queer community. 4.3% of Columbus residents identify as GBLTQ, not far behind more famously gay-friendly cities like San Francisco and Portland, Oregon. It's nice to know you can let your rainbow flag fly even when camping near Columbus, Ohio.
"I stayed in a cabin and loved this place, the horseback riding is awesome, airplane rock has a view second to none. the box canyon with waterfall is gorgeous (pun intended) but seriously it was fantastic. the cabin was clean and comfortable, and a bargain, no nickle and diming you to death." –The Dyrt camper Timothy M.
Lake Erie is just three hours from Columbus, Ohio— and camping at Kelleys Island State Park lets you take full advantage. This unique park takes up almost 700 acres of a 2,800 acre island, just a short ferry ride away from Marblehead and Sandusky, Ohio. That means you can participate in two of the outdoor activities Ohio has in abundance— paddling and mountain biking.
The fishing is excellent here, with plentiful walleye (in fact, this is the Walleye capital of the world), perch, and varieties of bass. There are also some rare plant species that grow here thanks to the unique ecological conditions created by the Great Lakes, including Pringle's asters, lakeside daisies, rock elms, and northern bog violets. Birds love Kelleys Island, too, and the State Park's two nature preserves are a wonderful habitat for migrating song birds, water fowl, and even bald eagles. In the fall, monarch butterflies pass through on their annual journey, too.
It's easy to make the most of Kelleys Island with kayak rentals available Memorial through Labor Day, a 100 foot public beach, and a mix of easy boardwalk trails, moderate hiking loops, and mountain bike trails that range from novice to intermediate. You can learn more about the glaciers that carved most of Ohio's topography at the Glacial Grooves State Memorial, as well as by checking out the East Quarry Trail. Also worth a visit is the nearby Marblehead Lighthouse.
Anglers can rejoice with extra amenities like a stone pier, and a fish cleaning house where you can prep your catch. The later is included in your campground fee. Bring along your camping stove so you can make a nice meal out of whatever you catch. And because alcohol may be consumed within the confines and privacy afforded in a cabin, cabin site, lodge room, rented campsite, or in those areas designated by the chief of Ohio State Parks, feel free to enjoy a cold one from Kelleys Island Brewery, a 20-year old seasonal mainstay. They even have a fun scavenger hunt you can play that will take you or your group all around the island.
---
This article about camping in Columbus, Ohio was brought to you by Primus

Pick up a campfire cook-set for your next camping trip in Ohio.
---
Related Articles:
---
Related Campgrounds
Popular Articles: