Looking for campgrounds near Eugene, Oregon? This article is brought to you by Tentrr. There's no better way to experience comfortable camping in Oregon—or elsewhere across the country—than by reserving one of Tentrr's luxurious signature sites, complete with your own canvas tent.
---
Oregon has it all – mountains, lakes, coastline, hot springs, and more. If you're an outdoor enthusiast, you can't visit a place more idyllic and green than Oregon. Camping in Oregon provides miles of trails, rivers, secret gardens, and bird-watching opportunities.
What are the best campgrounds near Eugene, Oregon?
These campsites near Eugene, Oregon, are wonderfully varied. The town of Eugene is charming in its own right; in the heart of the Willamette Valley, it's bookended by two mountain ranges. Whether you pick the relaxing waters of Belknap Hot Springs or the austere beauty of Waldo Lake, you certainly can't go wrong with these seven superb campgrounds in Eugene, Oregon.
On the banks of the McKenzie River, just minutes from Eugene, Oregon, Armitage Park is a wonderful place for day-use, camping, and RVs. The amenities are excellent, including state-of-the-art showers and free laundry services for campers. There's also a 2-acre off-leash area for dogs, and volleyball courts, and horseshoe pits for group games in the evenings.
"Hot showers, WiFi, laundry and charming shops along the road leading in made us feel very much like we were glamping."– Breanne J.
Campground Details:
Price: $20-40
Number of sites: 37
RV sites: Yes
Fires allowed: Yes
Pets allowed: Yes
With grassy fields rolling down to beautiful water views, this campground is part of Dorena Lake, about half an hour from Eugene, Oregon. There are seasonal boat and kayak rentals at the concession stands, and there are roped-off areas for swimmers. Baker Bay truly has something for everyone.
"East of Cottage Grove in the trees. Little boat dock. Stocked lake. Rental kayaks and a swimming hole. One of our favorite places."– Shari P.
Campground Details:
Price: $20-32
Number of sites: 48
RV sites: Yes
Fires allowed: Yes
Pets allowed: Yes
Out of the nearly 100 campsites with fire rings and picnic tables at Pine Meadows Campground near Eugene, Oregon, many of these are lakeside. There's a children's play area, a dump site, and designated fire rings for evening fires. Offering standard and primitive individual campsites, this campground offers diverse habitats and loads of bird-watching opportunities just minutes from the interstate.
"Something for everyone, camping, campfires, kayaks, s'mores, and bike riding!"– Nicola B.
Campground Details:
Price: $14-22
Number of sites: 107
RV sites: Yes
Fires allowed: Yes
Pets allowed: Yes
Directly on the banks of Fern Lake Reservoir sits Richardson Campground. Fern Lake is the largest lake in the Willamette Valley, and there are tons of watersports and bird-watching chances at this campground at the northern end of the reservoir. With a boat ramp, kid's play structure, amphitheater, and horseshoe pits, this campground also offers amenities such as showers, dump sites, and electrical hookups. On the west side of the airport in Eugene, Oregon, Richardson Campground is only minutes from the sleepier village of Veneta.
"Large, spacious tent sites with fire rings & tons of trees. The hosts are great and deliver firewood to your site. The showers are HOT and have great water pressure."– Hannah M.
Campground Details:
Price: $20-27.50
Number of sites: 88
RV sites: Yes
Fires allowed: Yes
Pets allowed: Yes
This campground has a lot to offer. With two gorgeous, naturally-fed hot springs and a secret garden, Belknap Hot Springs Lodge and Gardens is a delightful destination on the McKenzie River close to Eugene, Oregon. There are tent sites and RV hook-ups, and if you feel like glamping, comfy cabins are also for rent. Great for parties and events like weddings or reunions, this campground is a hidden gem.
"The MRT is known for world-class mountain biking as well as waterfalls, lakes, the blue pool, and of course the river."– Blaine B.
Campground Details:
Price: $35-45
Number of sites: 69
RV sites: Yes
Fires allowed: Yes
Pets allowed: Yes
Nestled in an old-growth forest on the banks of the middle branch of the Willamette River, Black Canyon Campground is halfway between Eugene, Oregon, and the Cascades mountain range. Dexter Reservoir and Look-Out Point are ideal spots for fishing and watersports and there are tons of trails, including a 1-mile interpretive trail. Close to Oakridge if you forgot some supplies, this campground is beautiful and verdant, and each site has a fire ring and picnic table.
"Sites on the river are spectacular!"– Aaron D.
Campground Details:
Price: $22-42
Number of sites: 75
RV sites: Yes
Fires allowed: Yes
Pets allowed: Yes
High on the western slopes of the Cascades, North Waldo Lake sits at 5,400 feet. The lake itself is one of the largest in Oregon, and there's a hiking and biking trail around the perimeter. The Shoreline Trail is a 1-mile trail from one lakeside campground to the next and is perfect for short-distance hikers. The lake itself has no natural inlets to feed it, which means that there isn't a lot of plant growth and visibility can go as deep as 120 feet on clear days.
"Easily one of the prettiest, and most beautiful camping spots I have ever stayed at. The host was amazing; he had an awesome attitude, stopped in at our campsite to shoot the breeze. Overall just a fantastic place to stay!"– Jeff S.
Campground Details:
Price: $24-44
Number of sites: 58
RV sites: Yes
Fires allowed: Yes
Pets allowed: Yes
Camping near Eugene, Oregon, offers nearly unlimited opportunities for hiking, biking, boating, and bird-watching. Throw in gorgeous waterfalls and crystal clear lakes, and you'll get a taste of what Oregon has to offer. If you want more, check out The Dyrt's full list of the best camping in Oregon.
---
This article was brought to you by Tentrr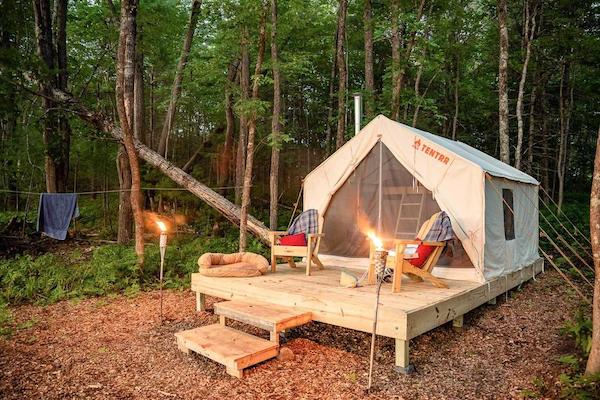 Tentrr offers some of the most comfortable camping tent rentals we've ever seen!
Popular Articles: