This article about the best campgrounds in Tallahassee, Florida is brought to you by Tentsile — the makers of innovative tree hammocks, which allow you to sleep raised up off the ground for a truly unique camping experience.
---
Tallahassee is a popular destination for many outdoor enthusiasts. The city and it's surrounding area has a wealth of great campgrounds to choose from, plus countless outdoor activities for campers to enjoy during their stay. If you want to experience a piece of Florida unlike any other, here are this year's top 7 best campgrounds in Tallahassee, Florida.
Named after a rare Torreya tree species that only grows on the bluffs along the Apalachicola River, Torreya State Park is a popular camping, hiking, and picnicking destination an hour west of Tallahassee. This scenic park offers high plateaus, bluffs, and deep ravines full of rare plants and wildlife, including a hiking loop, called the Great Challenge.
Torreya State Park is open year-round, and all of the campsites come with electricity. In addition to tents and RV sites, this cozy campground also has a cabin and 2 yurts that are available to rent.
"Beautiful scenery of the Apalachicola River. The steephead ravines are remarkable! Diverse flora. Rare animals seen included gopher tortoise and copperhead." – Michelle S.
Campground Details:
Price: $16-50
Number of sites: 29
RV sites: Yes
Fires allowed: Yes
Pets allowed: Yes
---
Located on Lake Talquin, just 15 minutes from downtown Tallahassee, Coe Landing is a scenic and quiet location conveniently situated near nature and just a short distance from city life. This is an excellent campground for anyone who enjoys boating and fishing, with waterfront campsites and a boat dock and ramp reserved just for campers.
There are also several nearby trails for hiking and mountain biking, including the Fort Braden Lake Talquin State Forest trailhead. You can drive in or enter by boat and enjoy a host of amenities, including electric and water hookups, pull-through sites, and Wi-Fi.
"Waterfront sites, pull-thru sites, and clean bathrooms. Will definitely stay again." – Jessie T.
Campground Details:
Price: $24-27
Number of sites: 20
RV sites: Yes
Fires allowed: Yes
Pets allowed: Yes
---
CCC Campground is located south of Interstate 10, about 30 miles west of Tallahassee. This spacious park offers tent sites, RV sites, and rustic cabins, with new sites under construction. It also has a host of nearby activities, including biking, boating, and fishing on neighboring lakes Seminole and Talquin, known for their excellent bass fishing. The sandy beaches of the Gulf of Mexico are also within a 90-minute drive.
CCC Campground and RV Park provide a wide range of amenities, including a grocery store, laundry facility, and a pool.
"Good place. Level spots with a lot of pull-throughs. Pine trees for shade. The restrooms were nice and clean. Friendly staff. We would stay here again." – Wayne P.
Campground Details:
Price: $20-50
Number of sites: 54
RV sites: Yes
Fires allowed: Yes
Pets allowed: Yes
---
This popular and modestly sized campground is located off U.S. Highway 98, just a short drive from Tallahassee. Rocky's Campground offers an abundance of opportunities for hunting, fishing, crabbing, and hiking. Another popular activity for visitors is bicycling at the nearby state parks, including Hickory Mound Impoundment and Spring Creek. Next to the campground is Rocky's Convenience Store, which offers daily breakfast and lunch, a wide selection of live & frozen bait, as well as plenty of fishing and hunting gear.
The newly renovated campground offers full hook-up sites, primitive camping, and an on-site bath house.
"Great little stop with people. Would use again." – Bill D.
Campground Details:
Price: $7-30
Number of sites: 34
RV sites: Yes
Fires allowed: Yes
Pets allowed: Yes
---
Located just an hour south of Tallahassee, Ochlockonee River State Park offers preserved longleaf pine forests and wildlife diversity, such as the red-cockaded woodpecker. The park has a boat ramp that provides convenient access to the river, teeming with freshwater and saltwater fish like largemouth bass and catfish. If you're looking for a campground in Tallahassee where you can fish, this is the spot!
The full-facility campsites come complete with restrooms and showers, and campers can enjoy canoe and kayak rentals and a swimming area where the Ochlockonee and Dead Rivers meet. If you're looking for a quiet escape to nature, the park's remote campground may be the spot for you.
"This is a pretty nice campground. It is flat and sandy, with lots of palms and shrubbery dividing most spaces." – Mo F.
Campground Details:
Price: $18
Number of sites: 27
RV sites: Yes
Fires allowed: Yes
Pets allowed: Yes
---
Three Rivers State Park is about an hour northwest of Florida's capital, where the Chattahoochee and Flint rivers meet and form Lake Seminole. This peaceful campground and park is home to various wildlife, including gray foxes, white-tailed deer, and many bird species.
Campers can enjoy freshwater fishing from the boat ramp or 100' pier and overlook the lake while grilling in the picnic table area. Visitors can also take advantage of a modern cabin and campsites near the lake.
"Great smaller campground. Most of the campsites are shaded for those hot months. Several nature trails and easy fishing access." – Savannah C.
Campground Details:
Price: $16-65
Number of sites: 29
RV sites: Yes
Fires allowed: No
Pets allowed: No
---
With spacious tent and RV sites, plus a variety of deluxe cabins, the Perry KOA is a large, family-friendly campground that's loaded with fun amenities. The campground is located in the Big Bend area, just about an hour southeast of Tallahassee. Here, you'll find plenty of fishing, hunting, canoeing, and scalloping activities nearby.
You can find beaches just a short drive away, or stay put and enjoy the pool. Campers can also take advantage of the clubhouse and other activities, such as pedal cars and horseshoes, and amenities like free wireless and laundry.
"Great quiet place, the people were friendly. The bathrooms were very clean." – Basialee R.
Campground Details:
Price: $55-102
Number of sites: 129
RV sites: Yes
Fires allowed: Yes
Pets allowed: Yes
These campgrounds are just a handful of the many camping areas where you can pitch a tent or bring your RV to explore the great outdoors or visit Tallahassee. For more camping options, check out The Dyrt's complete list of the best camping near Tallahassee, Florida.
---
This article about camping around Tallahassee, Florida was brought to you by Tentsile.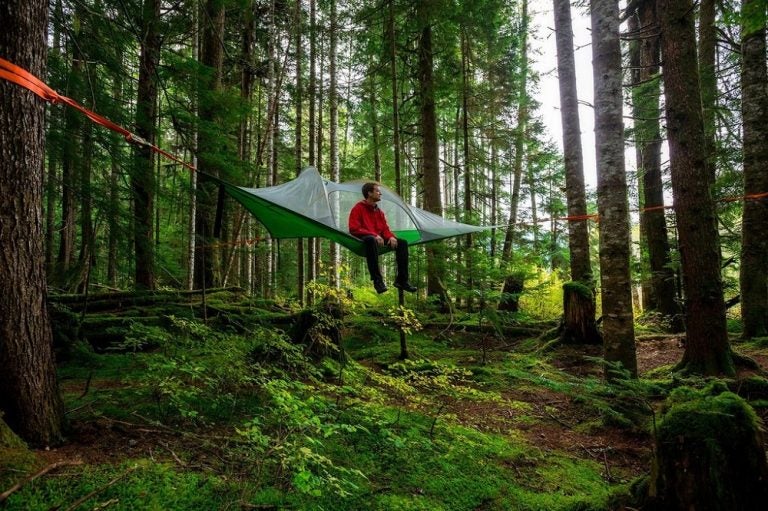 ---
Popular Articles: