This article about camping near Seattle is brought to you by Gregory. No matter where you explore, Gregory's small hiking backpack will comfortably carry all your essentials.
---
Camping near Seattle, Washington, means choosing between gorgeous peaks, beaches, deep green forests, or high desert. There's always someplace to explore when you camp in the beautiful Pacific Northwest around the metropolitan Seattle area.
Whether you chose to camp in the desert, mountains, or on the water, the views never disappoint. Camping near Seattle is breathtaking and an ideal opportunity to make some beautiful memories.
Tucked between the two urban hubs of Seattle and Tacoma, Dash Point is a mecca for birders, mountain bikers, swimmers, fishers, and skimboarders. At low tide, the point is perfect for skimboarding – a cross between surfing and skateboarding – as well as building sandcastles, collecting shells, or teaching young swimmers to love the water. High tide narrows the size of the beach, pushing anglers onto the pier. There are tons of forested trails, and campsites are well-shaded and well-spaced out.
"This campground is hidden in the middle of a major Western Washington city, Federal Way. Once in the campground, you would have no idea that you are surrounded by a sprawling metropolitan area." – Rich M.
Campground Details:
Price: $12-50
Number of sites: 141
RV sites: Yes
Fires allowed: Yes
Pets allowed: Yes
---
Cradled in the bowl of the cascade mountains is Silver Lake RV Park. This campground is made up of three camping areas and a group camp. Maple Creek is a central campground, next to amenities and the camp playground.
Cedar Campground is at the north end of the park close to cabins and hiking trails; this campground isn't recommended for RVs or long trailers. Red Mountain Campground is ideal for horse camping with RV sites, a meadow for grazing, and two stables.
"I loved the night time because the sky just lit up with stars. I could stare at the sky for hours. The weather was perfect too."– Skylar M.
Campground Details:
Price: $80-115
Number of sites: 90
RV sites: Yes
Fires allowed: Yes
Pets allowed: Yes
---
With soccer fields, a 500-foot suspension bridge over the Snoqualmie River, yurts, campsites, and tent platforms galore, this is a popular, convenient campground close to Seattle. You can bike the forested trails in Ames Lake Forest or enjoy the dramatic spawning of the Chinook salmon each fall. Tolt MacDonald Park is an ideal spot from which to explore western Washington.
"Lots of trees and trails. They have a neat suspension bridge and a trail that leads to the river and one that leads to town."– Carrie A.
Campground Details:
Price: $20-140
Number of sites: 38
RV sites: Yes
Fires allowed: Yes
Pets allowed: Yes
---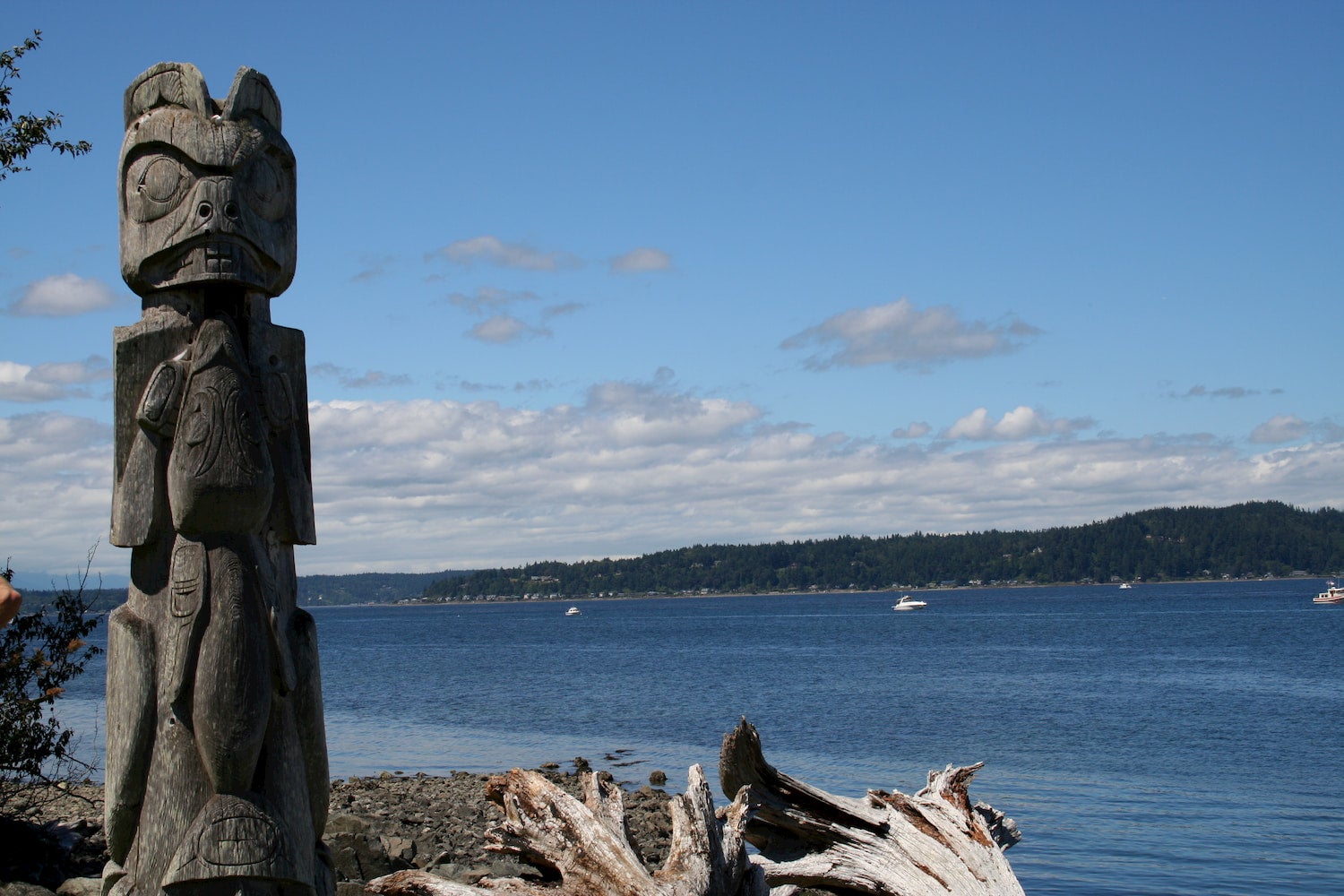 Only accessible by boat, Blake Island State Park takes up the whole small island with magnificent views of Vashon, the Kitsap peninsula, and Seattle's skyline. There are 3 camping areas and 5 miles of trails around the circumference of the island. Tillicum Village is a concession and entertainment venue. Bring your boat or take the ferry over, but don't miss this secluded and gorgeous spot close to Seattle.
"You do need a boat or a ticket on the Argosy to get here, but it's so worth it! It is a peaceful getaway from the hustle and bustle with gorgeous views of the city." – Christi R.
Campground Details:
Price: $12-50
Number of sites: 51
RV sites: Yes
Fires allowed: Yes
Pets allowed: Yes
---
Backed up to the Green River, Kanaskat-Palmer Park is on a low plateau amidst a forest and river. Only plan on kayaking or white-water rafting the Green River if you're an expert, but there's tons of trout-fishing, wading, and rock-hopping to be had. Hike down shaded trails, enjoying the local flora and fauna.
"I definitely suggest venturing around the river to find other places to swim than the main one, which can get crowded with multiple families."– Griffin C.
Campground Details:
Price: $21-40
Number of sites: 52
RV sites: Yes
Fires allowed: Yes
Pets allowed: Yes
---
Boasting the only boat launch with vehicle parking, Joemma Beach State Park also has a pier for anglers, mooring buoys, and a dock. To fish or harvest the abundant marine life here, you'll need a recreational license. Only 19 campsites make this campground uncrowded and secluded. At a little over an hour from Seattle, this is a beautiful spot to get away from it all.
"It's really quiet and peaceful here. You cannot reserve this state campsite online and so it is first come, first served. If you have a boat or a kayak, they have sites set aside."– Dana R.
Campground Details:
Price: $12-25
Number of sites: 19
RV sites: Yes
Fires allowed: Yes
Pets allowed: Yes
---
Under towering firs and cedar trees is nestled Tinkham Campground, located on the Snoqualmie River's South Fork. The Tinkham discovery trail is a perfect starter for young hikers as it leads them through a moss-covered landscape to a small pond. Easy access to a ton of outdoor recreational activities and only 44 minutes to Seattle, this campground is a must for any nature-loving city-dweller.
"Spacious sites. Quiet and relaxing. We chose a spot close to the water and this is by far the nicest campsite we have ever experienced."– Corey M.
Campground Details:
Price: $16-18
Number of sites: 47
RV sites: Yes
Fires allowed: Yes
Pets allowed: Yes
Camping near Seattle brings you to towering forests, gracious peaks, and beautiful deep-blue sounds and inlets. These seven campgrounds only start to give you an idea of the camping options available near Seattle. For more ideas for your next adventure, check out The Dyrt's full list of the best camping in Seattle.
---
This article about camping near Seattle was brought to you by Gregory.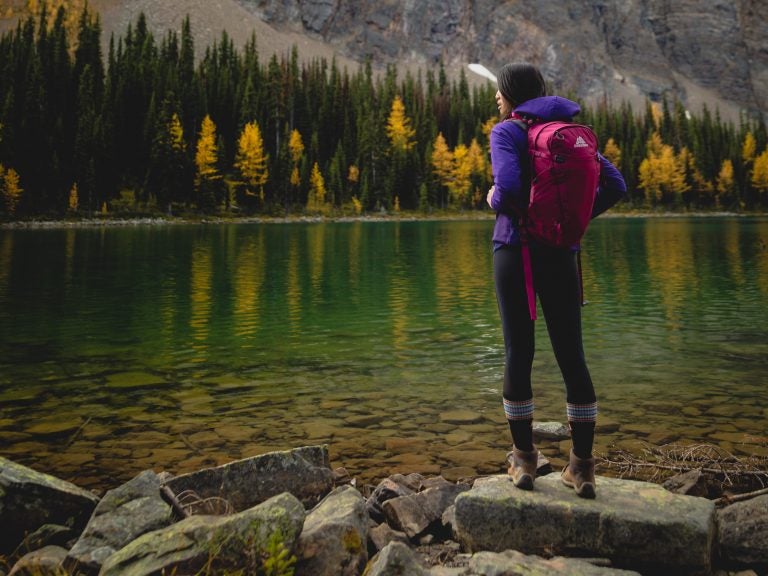 Their backpack rain covers are essential for any explorer in the rainy Pacific Northwest.
---
Popular Articles: