This article is brought to you by Tentsile. They make truly innovative hammock tents, which allow you to sleep raised up off the ground, for an awesome and unique camping experience.
---
The natural landscape around Boise, Idaho, is astonishingly diverse, with ancient pine forests growing alongside dramatic, arid lava fields, and wildflower meadows.
There are many top-notch camping options in and around Boise, Idaho. Here, you'll find a rundown of the leading campgrounds in the area, so you can more easily plan your next adventure into Idaho's unforgettable landscape.
This charming, forested campground is located about 30 miles northeast of Boise, along the South Fork Payette River. The Pine Flats Campground is relatively small, and yet very well-equipped. Most of the sites are easily accessible, and each one has a campfire ring, grilling equipment, and a picnic table for group meals.
The nearby river has several hot springs and is an ideal spot for water sports and fishing. For those who want to go rafting, the campground is only five miles from the Danskin River Access site.
"This campground has a great location, downhill from the highway, there is virtually no noise from the road." – Franklin R.
Campground Details:
Price: $15-30
Number of sites: 26
RV sites: Yes
Fires allowed: Yes
Pets allowed: Yes
---
This small, riverside campground is a little over 30 miles northeast of Boise. Conveniently, it lies just ¼ mile away from the gorgeous, 35-mile long Kirkham Ridge Trail.
The Kirkham Campground makes it easy and inviting for visitors to bathe and play in the South Fork Payette River's natural hot springs. The area around the campground is populated with wildflower meadows and several Ponderosa pine trees.
"The campground is well-cared for, and the site managers do a good job. The hot springs are incredible. There are multiple springs throughout the campground and along the river." – Patrick M.
Campground Details:
Price: $5-30
Number of sites: 16
RV sites: Yes
Fires allowed: Yes
Pets allowed: Yes
---
This RV campground is located opposite the Plantation Country Club, to the north of Boise. It lies along the Boise River, where you'll have greenbelt access while remaining close to the city's greatest attractions.
The team at the Riverside RV Park offers laundry services, free Wi-Fi, and a sizable common area for making new friends. All RV sites have full hook-ups ready upon your arrival. Plus, they offer both daily and monthly rates, making it a great option for all kinds of campers and RVers.
"This spot is on the Boise River, a short trek from wineries, shopping, and the river. Something for everyone! Nice people, great location." – Amy S.
Campground Details:
Price: $34-42
Number of sites: 139
RV sites: Yes
Fires allowed: No
Pets allowed: Yes
---
This tiny campground is situated just under an hour's drive southwest of Boise, in the stunning, archeologically-significant Celebration Park. The surrounding landscape is striking and dramatic, with ancient basalt boulders and rusty human-made railroad bridges.
Camping at this location is first-come, first-served. However, for those that manage to snag one of these sites, they'll be rewarded with premium stargazing opportunities and breathtaking vistas.
"The views are stupendous, and I recommend taking a hike at dark across the bridge and up the Mesa and stargaze." –Meredith S.
Campground Details:
Price: $2-15
Number of sites: 6
RV sites: Yes
Fires allowed: No
Pets allowed: Yes
---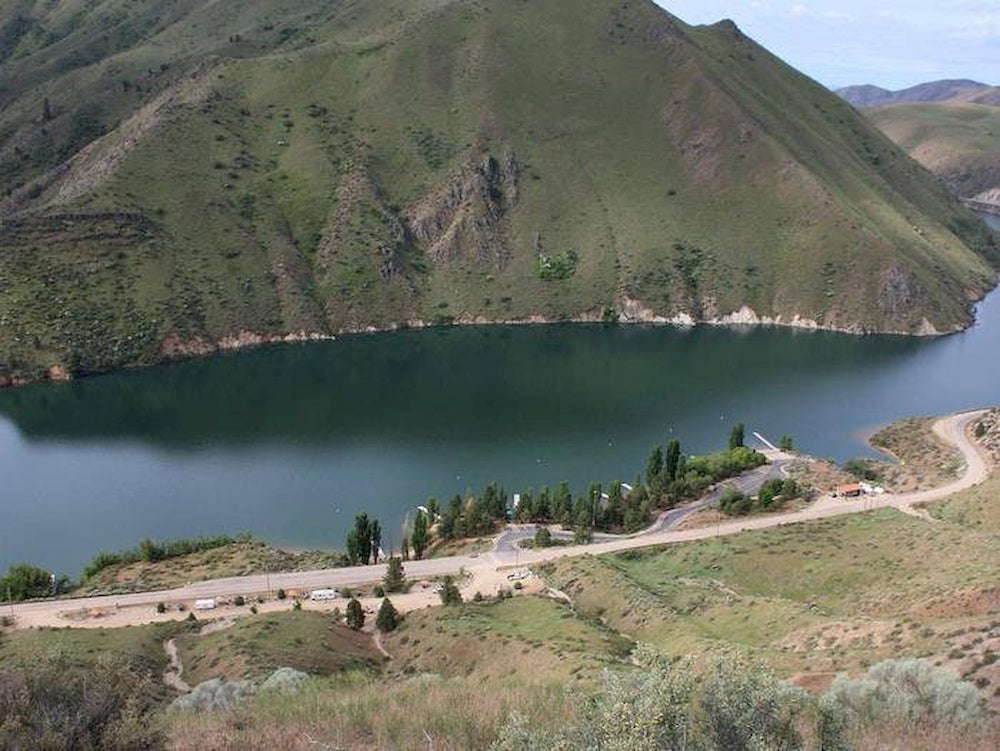 This family-friendly campground is located just over 20 miles northeast of Boise. Visitors to Macks Creek are conveniently situated by both the Lucky Peak Lake and the Ponderosa Pine Scenic Byway.
Of the campgrounds near Boise, this one is ideal for fishing enthusiasts.  With the nearby lake and its boat ramp access you can easily fish the significant trout population. The sites are shaded, surrounded by sagebrush trees, and nestled along the water's edge. You'll find the vast Boise National Forest nearby, with its numerous hiking trails.
"What a great spot, beautiful and so clean. The camp host was the nicest guy you could ask for. Definitely want to return!" – Jen R.
Campground Details:
Price: $10-20
Number of sites: 15
RV sites: Yes
Fires allowed: Yes
Pets allowed: Yes
---
This gorgeous RV campground is just over 40 miles due west of Boise. It is located along the Snake River in Wilder, Idaho.
Guests will arrive to find a small, family-friendly RV park that includes several full hook-up sites and even five wooden cabins available to rent. The campground's property also has a basketball court, gazebo, and boat ramp access to the river. Plus, there are several horseshoe pits for fun and games with friends.
"Wonderful quiet location, good hosts, and amazing sunsets on the Snake River." – Jacqueline L.
Campground Details:
Price: $22-65
Number of sites: 29
RV sites: Yes
Fires allowed: Yes
Pets allowed: Yes
---
Fair warning, the Black Rock Campground is a solid 2-hour drive northeast of Boise. However, we're confident you'll find that the extra hour in the car is worth it for several reasons.
The property itself lies along the North Fork Boise River banks, over 4,000 feet above sea level, and is surrounded by lofty and magnificent ponderosa pine trees. Each of the 11 campsites has a campfire ring and picnic table for meals. But the surroundings is really what makes this spot so special. And for some added fun, there are a variety of exhilarating hiking and dirt biking trails nearby.
"The drive-in is very long on a dirt road that is dry and bumpy, but the campground is worth it. You are nestled in the trees with a river below – you can wade in the water and enjoy fishing as well." – Kelly G.
Campground Details:
Price: $15-25
Number of sites: 11
RV sites: Yes
Fires allowed: Yes
Pets allowed: Yes
Camping in and around Boise provides a perfect mixture of relaxation and excitement. These campgrounds are just a small selection of all the sites and locations available in the area. For many more options, check out The Dyrt's full list of the best camping in Boise, Idaho.
---
This article was brought to you by Tentsile.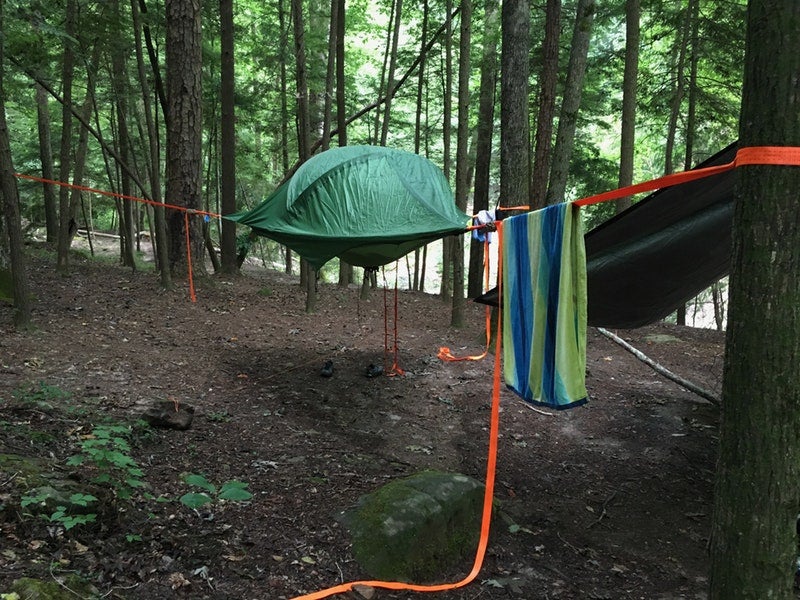 Their camping hammocks bring a new dimension to camping—check out the awesome design of their latest 2-person hammock tent.
---
Popular Articles:
---

---