This article about camping near Rockford, Illinois is brought to you by Tentrr. No matter where you're headed to next, make sure to search for "Glamping Near Me" to see what awesome Tentrr sites are available nearby.
---
The area in and around Rockford, Illinois, provides unparalleled beauty. Depending on when you plan to visit, you can take in stunning fall colors or enjoy a summer getaway, full of water sports & outdoor activities. And no matter what type of camper you are—whether you like to just show up on a moment's notice, make a reservation month in advance, are a solo camper, or want to meet up with family—there is a great campground here for you.
Encompassing both Olson and Pierce Lake, visitors can enjoy the countless views, hikes, and water adventures that await at Rock Cut State Park. This 3,100-acre preserve was created in 1957 to maintain a local politician's favorite fishing spot. Before that, the land was one part of the Mascouten, Chippewa, and Winnebago people's territories.
Nowadays you can camp or park your RV at this expansive campground, just 10 miles from Rockford, Illinois. Rock Cut has all of the services and amenities you need to keep you comfortable and safe during your stay. Amenities include things like electrical hookups, hot showers, fire pits with cooking grills, picnic tables, and even an on-site market that is stocked with all the necessities! One item of note, the water and dump stations are not available in the off-season, however the rest of the amenities are.
"Take a leisurely stroll, or fish in their stocked lake. Rock Cut is a sweet park just outside Rockford."– Ashley J.
Campground Details:
Price: $21-40
Number of sites: 236
RV sites: Yes
Fires allowed: Yes
Pets allowed: Yes
---
Chain O'Lakes State Park is so special that even though it is a little more than an hour from Rockford, Illinois, it is worth the mileage to get there. With adorable names like Honeysuckle Hollow and Fox Den, these campsites are one-of-a-kind, and almost all of them have an incredible water view. The campground offers amenities such as electrical hookups, water & sewer hookups, hot showers, drinking water, an on-site market, and even 3 reservable cabins for a cozy, upgraded camping experience.
"All the campsites have raised fire pits and a picnic table. If you own a boat or love to fish, this is a great place to go camping."– Marisa A.
Campground Details:
Price: $12-55
Number of sites: 151
RV sites: Yes
Fires allowed: Yes
Pets allowed: Yes
---
Shabbona Lake was created in 1975 by damming the Fox River. The lake's name stems from a revered Potawatomi peacemaker in the local area – Chief Shab-eh-nay. Shabbona Lake State Park offers unparalleled natural beauty amidst all the amenities you need, even on-site boat rentals and a tackle shop.
The lake wraps around the campground in some areas, so you're always close to the water. One important note to remember: swimming is not allowed in Lake Shabbona, and yes, this rule is strictly enforced. Regardless, this lake is still a lovely and popular fishing spot with a great campground to boot, and just 51 miles from the heart of Rockford, Illinois.
"In the off-season, Canvasback Cove is not usually closed like the other side of the campground. Without little kids in the colder months, I still camp at those sites."– Marisa A.
Campground Details:
Price: $21-40
Number of sites: 52
RV sites: Yes
Fires allowed: Yes
Pets allowed: Yes
---
Smackdab in the middle of spectacular bluffs and huge pine-scented forests, this campground sits on 385 acres of beautiful trails. It sits on the southern boundary of the historic Chicago-Iowa Trail. One of the most interesting features of the area is the concrete fords that you drive across to get to the campground.
Just 45 minutes outside of Rockford, Illinois, White Pines Forest is a verdant, memorable locale. Meandering creeks are buffeted by loamy banks overhung with vines. The campground itself has hot showers, electrical hookups, water hookups, a sanitary dump, plus numerous picnic tables & picnic day-use areas. Lastly, while dogs are allowed to come camping with you, alcohol is not—there is a year round alcohol ban that is enforced throughout the campground.
"Great forests and trails! Nice for camping in that the campsites are not too close together but there are still bathrooms."– Caroline R.
Campground Details:
Price: $5-20
Number of sites: 103
RV sites: Yes
Fires allowed: Yes
Pets allowed: Yes
---
An ideal spot for a family getaway, Chicago Northwest KOA has a little bit of everything and is only 37 miles from Rockford, Illinois. With a mini golf course, frisbee golf course, dog park, wild west town, gem mining, and even a heated pool amid a rustic setting, this campground is aces for family adventures. Plus, with over 140 different camp sites to choose from, they have all different types of tent campers & RVers covered, including pull-thru RV sites for vehicles all the way up to 65-ft long!
"Nice bathrooms, decent size level sites. The kids were fans of Wild West Town which is directly next door."– Marc W.
Campground Details:
Price: $41-70
Number of sites: 141
RV sites: Yes
Fires allowed: Yes
Pets allowed: Yes
---
This campground has a lot of room to run and play. Let your kids play on the banks of Sugar River near Brodhead, Wisconsin. Crazy Horse Campground is a natural respite from the modern world.
There's tons to do on the river, like kayaking, canoeing, or fishing, and if you don't feel like playing in the natural water, there's always the heated pool. Lots of amenities and a very dog-friendly attitude makes this mid- to large-sized campground a blast to visit.
"So much to do and not crazy prices. Creek tubing/kayaking is so much fun. Lots of activities and fun."– Karen L.
Campground Details:
Price: $21-40
Number of sites: 157
RV sites: Yes
Fires allowed: Yes
Pets allowed: Yes
---
A mecca for weekend warrior bicyclists, the Thomas Woods Campground is located on the Marengo Ridge. A tree-lover's delight, copses of sumac and ash are interspersed with hickory and oak wetlands. You're also within driving distance to Chicago (a little over an hour), yet even closer to Rockford, Illinois, at 45 minutes.
This is a small and peaceful campground with basic amenities that is centrally located. Tons of family group camping areas make this a perfect reunion spot. Don't miss fall camping when the trees are a patchwork of breathtaking colors.
"This was a well laid-out campground, with some sites right on the roads and some buried back in the woods away from everyone."– Hallie B.
Campground Details:
Price: $15-35
Number of sites: 46
RV sites: Yes
Fires allowed: Yes
Pets allowed: Yes
Camping near Rockford, Illinois, gives you extensive options, some near the urban areas and some farther out into nature. The seven campgrounds above merely scratch the surface of the camping options in this area. For nearly 100 more options to browse through, check out The Dyrt's full list of the best camping near Rockford, Illinois.
---
This article was brought to you by Tentrr.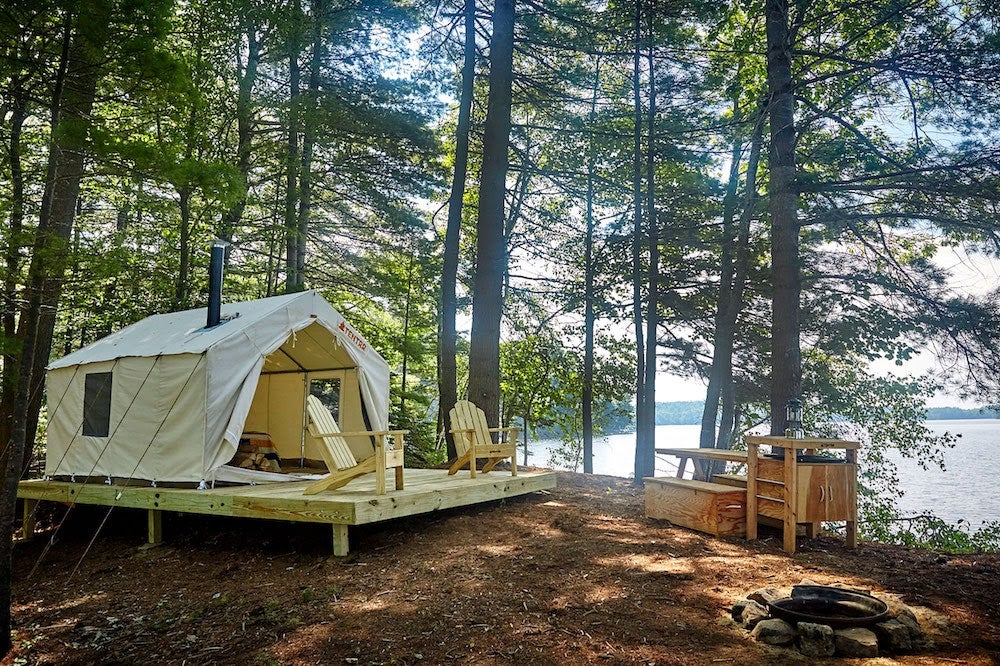 The canvas wall tents used at their sites offer the perfect glamping getaway.
---
Popular Articles:
---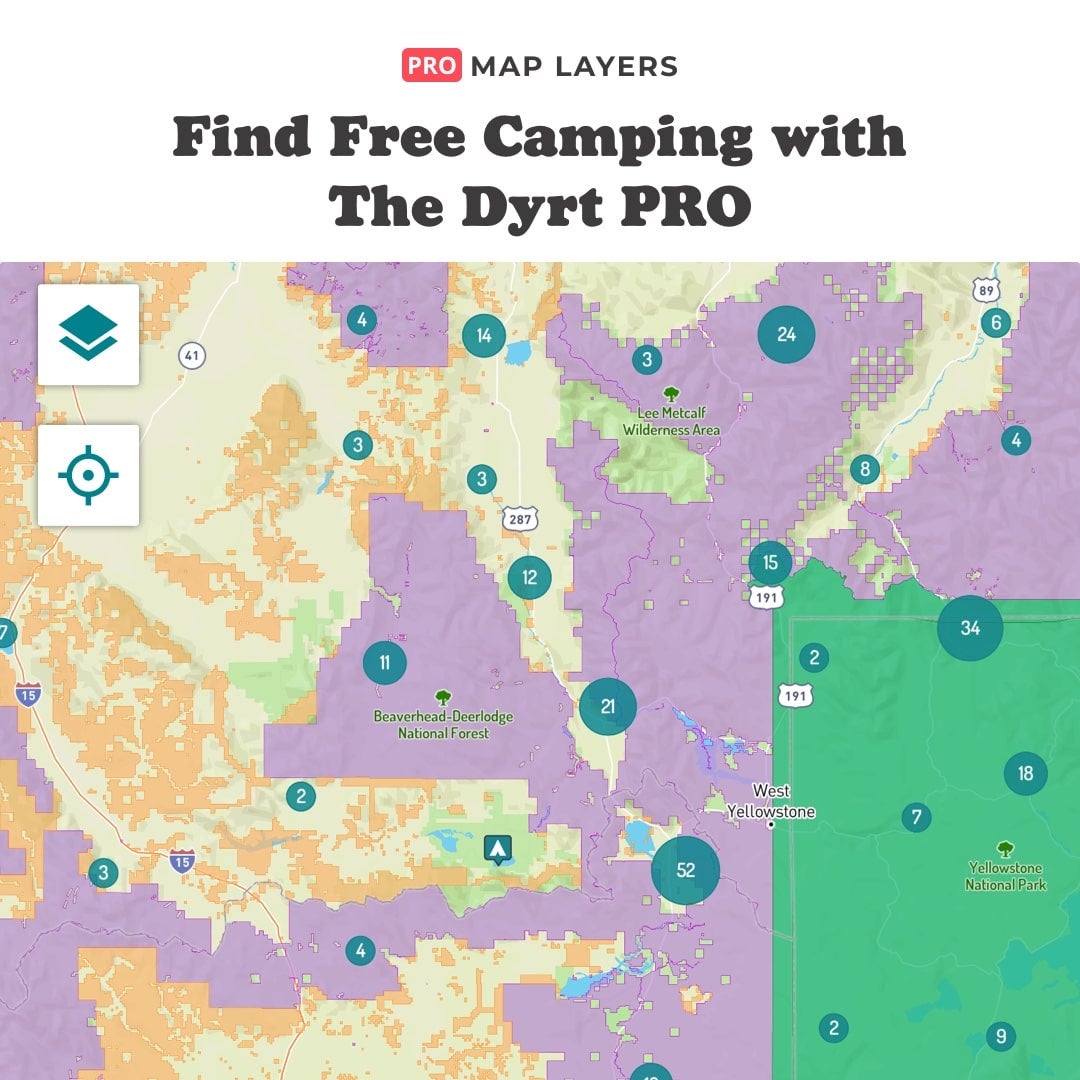 ---