The Camp Creek Campground sits next to a babbling forest creek in the countrys scenic Pacific Northwest region. The campground is not far from the base of the majestic, snow-covered Mt. Hood, Oregons highest point and a prominent landmark of the area. A variety of recreational activities surround the campground, including hiking, biking and horseback riding trails, scenic views and points of exploration.
Natural Features:
The shady and quiet campground is situated on a bench above Camp Creek, in the Mt. Hood National Forest, at an elevation of about 2,200 feet. It is tucked in among a mature forest of Douglas fir and cedar trees that are covered in moss.
The campground was originally constructed by the Civilian Conservation Corps in 1936. While updates and renovations have been made, some features from the era remain, such as several stone fireplaces.
Recreation:
Surrounding the campground are a variety of hiking and mountain biking trails, including the 1.6-mile Still Creek Trail, which is family-friendly and full of beautiful vegetation, and the Pioneer Bridle Trail, which takes hikers, bikers and horseback riders through about 10 miles of scenic wilderness.
Visitors to the area also enjoy mountain biking along the nearby Zigzag River, however bikes are not allowed within designated wilderness areas along the trail.
A variety of trout and whitefish populate the nearby creek and river, where anglers typically enjoy catch-and-release fishing. Wading is also popular in the cool mountain waters. The plentiful creeks and streams in the area stem from glaciers atop Mt. Hood.
Facilities:
The campground offers about two dozen single-family and double occupancy campsites, available for tent and RV camping.
Each site is equipped with tables and campfire rings with grills. Accessible vault toilets and drinking water are provided. Parking surfaces are dirt and gravel, and a dump station is available nearby for a fee.
Nearby Attractions:
The town of Rhododendron is about 3 miles from the campground, offering a variety of services and supplies.
ACTIVITIES
Biking
Fishing
Hiking
Visitor Center: Ranger Station
Sites
21
Location
Camp Creek
is located in
Oregon
Directions
From Portland, travel east on Highway 26 for approximately 32 miles. Camp Creek Campground is located on the south side of the highway, about 3 miles past the community of Rhododendron.
Beautiful place
We had a nice spot right by the creek, it has nice trails. A great place to take your family or dogs.
Ranger Review: VivoBarefoot Primus Trail shoes at Camp Creek
Campground Review
Midway between Welches and Government Camp, I picked Camp Creek as a my Mt. Hood hiking base for the weekend because of it's proximity to access Mirror Lake for a morning hike for a true test of my new vivobarefoot hiking shoes (see below) Note: Mirror Lake does have its own primitive walk-in campsites.
The campground is 2 loops. The loop to the left includes the day use area, and the loop to the right is smaller and quieter. It was still pretty cold at this elevation end of May, so most other campers here were RVs and we had plenty to pick from without reservations (this will not be the case in the summer or holiday weekends). Site 10 was our pick, on the quieter loop with proximity to the bathroom and water pump and alongside the creek. The water pump is an adventure. Recommend to stop by the Safeway in Sandy en-route and carry in your own water.
Nearly all of the sites are huge, and all include picnic table and fire ring. The first site when you enter the campground on the left has a gorgeous stone fire place/chimney that remains from an old building (a tradeoff for the high traffic). There is one toilet in each loop, so there is a bit of a walk to the loo from some sites.
This campground is a good National Forest campground. What makes it great to me is its location right off of Hwy 26. You can easily access Government Camp for supplies, and it's super accessible for an early morning start on any of the Mt. Hood hikes that get really crowded. Mirror Lake has very very limited parking and it's a super popular hike, so this was a perfect solution.
Product Review
As a Ranger for The Dyrt, I get products to test from time to time - on this trip to Camp Creek I tested a pair of VivoBarefoot Primus Trail SG barefoot hiking shoes. SG stand for the Soft Ground sole which I chose since I'm Oregon hiking in often in wet and muddy areas.
Testing these shoes at Camp Creek let me try out the Primus Trail both for practicality in the campground as well as in action on the trail at the nearby Mirror Lake and Tom Dick & Harry Peak.
I hike quite often, and mostly do so in my running shoes since I really dislike really bulky and heavy hiking boots. I'm always searching for a better option, and have tried barefoot running in the past, so when the opportunity presented itself to test out a pair of VivoBarefoot shoes, I didn't hesitate.
I had a hard time choosing which shoes, but decided on the Primus Trail SG because of the extra traction on the sole, and I wasn't disappointed. (There is a water version as well that looks great for a SUP/Hiking/Camping trifecta, and a full ankle boot for hiking that also look amazing)
I loved that the vivobarefoot shoes are so lightweight. It truly is like you aren't wearing shoes, yet the traction of the SG is amazing. I tested them to the max by climbing up boulders, rocky trails, and navigating log crossings.
Since I'm not a regular at hiking or running barefoot, I followed the beginner instructions online to make sure I didn't over do it and get injured. I wore the shoes around a few days to get used to them before the trip, and around the camp ground with no problem. Since I didn't have time to break them in on short hikes, I did the first half of my 7 mile hike in them, then switched into my normal running shoes- which felt so heavy afterwards. Since this first hike, I've added a mile or two each time before the shoe switch. The goal is that I'll be able to do a full 10 mile hike in them soon. I've found it easiest to get used to the front of the foot strike going up-hill.
I really loved is that these shoes fold up to almost nothing. You could literally store these hiking shoes in your purse (which is totally something I'd do). They fit in the waterbottle pocket of my day pack, and in the pocket of my travel hammock (a big campground win for summer hammock camping shoe storage).
Wearing them around the campground, my favorite part was that they are so low profile that I could put on and take off my bottom layer of sweatpants over my shorts without having to take off my shoes. This came in really handy since it was chilly when we arrived and I didn't have to waste time taking my shoes off and doing a full change before getting set up.
If you're a cold person like me, it is worth noting that the minimalist nature of these shoes aren't exactly designed to keep your feet warm. When I was moving I was fine, but sitting at the summit of my hike (where there were still patches of snow), my sock-less toes were pretty cold (I wasn't wearing socks).
Size-wise, I ordered by European size off of the size chart and the fit is pretty true on this style. They felt a little big in the toe box when I first tried them, but that's just because barefoot shoes give your toes more space. Now that I'm used to them, they feel perfect.
The only problem is that I really liked wearing them around the house, and now they're all dirty from hiking. I'm thinking about getting the Primus Lite Women's next :)
Spacious Creekside Spot
This is my second trip to Camp Creek. This time we were able to book a spot next to the water. Probably the largest site I've ever camped on. Even though we maxed out with 6 people and 4 tents, you could easily fit another 5 tents on this site comfortably.
Love this campground because noise from other campers is reduced by the water, and sites are spaced out nicely to provide privacy.
The latest staff on site (as of June 2017) were subpar compared to my first visit, and created a somewhat frustrating checkin experience. However this site is awesome, so hoping staffing improves in the future.
This campground also hooks into the Still Creek Trail #780. Beautiful hiking!
Be sure to check out the Skyway Bar & Grill for some tasty BBQ on HWY 26 (west of the campground) and brews at Mt. Hood Brewing (east of the campground off HWY 26 in Goverment Camp).
2019 Campground Review Contest
Oregon
OR
Review Campgrounds.
Win Prizes.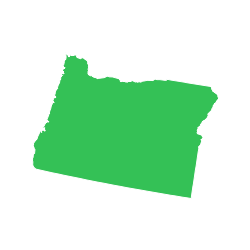 GRAND PRIZE $300 to Wenzel Tents
4 RUNNERS UP WIN $50 to Grub Stick