This article is brought to you by Tentsile, makers of the most innovative tents we've ever seen. Is it a hammock tent, a tree tent, a floating tent? Yes, to all three. Tentsile has beautifully combined the security and protection of a tent, with the versatility and comfort of a hammock.
---
Roughly 42% of Arizona's total land mass is composed of public lands, making it an ideal location for boondocking, long-term camping, or a quick and budget-friendly weekend getaway. If you're looking for free camping in Arizona, don't limit yourself to Walmart parking lots. Instead, get out there into that endless expanse where you'll find arid deserts, saguaro cacti, Apache trout, and Sonoran pronghorn.
With all the public and federal land across the Grand Canyon State, camping in Arizona is available for free to those who are willing can find hundreds of free sites along dirt roads and in established campgrounds from the Coconino National Forest to the Kofa National Wildlife Refuge. Free camping in Arizona features both desert and forest and sees hundreds of thousands of visitors year-round.
Due to the moderate temperatures during what might be called the "off-season" elsewhere, hoards of RVers, van-dwellers, and nomads gather in the western reaches of Arizona for yearly gatherings like the Rubber Tramp Rendezvous in Quartzsite, or to stay at one of the two Long Term Visitor Areas which aren't free, but cost a mere $180 for a seven-month stay. Which, if you ask me, feels as close to free as you can pay for.
Where to Find Free Camping in Arizona
Truly free camping in Arizona typically exists on Bureau of Land Management or United States Forest Service land. There are also with some spots also available on a National Refuge or land managed by the Army Corps of Engineers. Regardless of the service, it's important to do some research ahead of time. That way you'll ensure that the campground is free of charge, open, and is accessible for certain vehicles.
Because most of these campgrounds and campsites are on public land, they are often accessed by high-use dirt roads that have eroded with potholes. Many require 4WD to access or at least a high-clearance vehicle. All these campgrounds are owned by the government and have a corresponding field office to contact ahead of time.
For most free camping in Arizona, stay limits are 14 days within a 25-mile radius for any 28 day period. You can find another campsite to stay at for another 14 days, but it has to be at least 25-miles from your previous site to prevent a ticket. If you're in a pinch you can use the offline maps and campgrounds of The Dyrt PRO to find the free Arizona camping near you.
Primitive and free camping generally means limited amenities and resources, so it's the responsibility of the camper to practice Leave No Trace ethics like destroying fire rings after use, digging catholes for gray water and poop, and packing out everything you pack in. Our public lands are seeing increased use year over year and practicing Leave No Trace will make free camping in Arizona available for years to come.
Primitive camping in Kofa National Wildlife Refuge is what primitive camping is all about. Located far away from civilization, on pothole-ridden roads, with zero services and amenities, Kofa is the place to go to purely get away from it all.
At Kofa, sites are tucked into cliff sides, offering some of the most stunning sunsets you'll see in the states. There are plenty of sites here to find your own piece of solitude and most of the RVers in the area use solar power to keep generator noise to a minimum.
"There are endless camping possibilities. You have to have a 4×4 to get there! Just my kind of spot." –The Dyrt camper Kaysha R.
Depending on who you ask, Stateline Campground is located in both Utah or Arizona—for our purposes, we're going with Arizona. Not only is Stateline private and primitive, but it's also located close to Page, AZ, and Kanab, UT for easy access to popular hikes like Wire Pass, Buckskin Gulch, and The Wave.
If you want to stay away from the crowds, there are plenty of other hikes in the area of Vermillion Cliffs and Pine Hollow Canyon. With only four sites, you'll want to get here early in the weekend to secure a spot. Otherwise, you might be searching down other dirt roads to find a spot for the night. Stateline is also notable for being the Northern Terminus for the Arizona Trail.
"Great quiet and clean campsite. Toilets are the cleanest we have experienced. The only downside is there is no water (so make sure you bring your own, this is the desert) and you also will need to bring your own firewood." —The Dyrt camper JH A.
Just three miles outside of Quartzite, home of the Rubber Tramp Rendezvous, Scadden Wash offers dozens, if not hundreds of free campsite options for RVers. While you won't find much in the way to solitude (few trees exist here), you will have easy access to town and the amenities there like laundry, showers, and groceries.
During the winter, Scadden Wash becomes an almost town of its own, thought camping limits of 14 days are still in place. Like free camping in Kofa, the sunrises and sunsets at Scadden are absolutely stunning. You'll want to set up the time-lapse on the DSLR to capture it.
"Sunrises and sunsets are endless and jaw-dropping! Easy access back into town for food, gas, firewood, laundry, and just about anything an RVer or camper could need." –The Dyrt camper Shari G.
With ten primitive campsites, Fourmile Canyon Campground can fill quickly on the weekends–especially during javelina and deer hunting season. The campground is surrounded by mountains and juniper shrubs for a peaceful getaway.
There are no amenities here, but trailers up to 30' can fit in some of the sites. Temperatures can fluctuate at Fourmile which keeps it open year-round but makes it more comfortable to visit in the winter when higher elevation campgrounds are closed.
Despite only having two campsites, Clark Peak Corrals offers pit-toilets and picnic tables for the lucky few who nab the sites during the cooler summer months. At 9,000' elevation, Clark Peak remains inaccessible through the winter months but offers respite from the hot Arizona sun in the peak of summer.
Because it's so far from everything and at the end of HWY 366, Clark Peak Corrals offers excellent stargazing opportunities and a true "get away from it all" feel.
"The two little sites are clean and each has an old wooden picnic table setup there are for sure toilets. Would be a perfect little spot to watch the stars."–The Dyrt camper Candice E.
About 40 miles away from Wilcox, adventurous campers with high-clearance vehicles can find free camping along Piney Canyon Rd. Each of the sites is primitive with no toilets, potable water, or picnic tables, though most have an already established rock-ring fire pit.
A modest amount of precaution is necessary for Piney Canyon as the road crosses several washes on the way up. If a flash flood or storm moves in, you could be stuck on the other end until the flooding recedes–which could be hours or days. But once you're up there, the views and rock formations are out of this world.
"Most sites are tree covered, but we found one with an open sunny space for our solar panel. Our site was right next to a very clean flowing stream, which provided not only a nice soundtrack but also a filterable water source."–The Dyrt camper Shari G.
Just outside Tucson, south of Saguaro National Park, free camping in Arizona exists for RVers, motorhomes, and tent campers alike. While there's limited privacy in the desert expanse, there are plenty of established sites for a few days or a couple of weeks. Either way, there's plenty to explore in the surrounding areas so you'll want time to do so.
Because of the proximity to town, Snyder Hill campers are within earshot of city noises and lights. There's also a shooting range nearby, so be prepared for those noises as well. But our campers have praised this area despite its downfalls, specifically for boondocking and contained camping.
"Bureau of Land Management site. 14-day limit. Easy access and we were able to park our 42 ft motor home easily. The area is quiet with trails and lots of areas to walk your four-legged camper!" –The Dyrt camper Carol W.
---
Find free Arizona campgrounds from your car without WiFi. The Dyrt PRO lets you download maps and campgrounds without cell service. "My alternative to using pro would be to drive back out to cell service."
---
When we talk about perfect free camping in Arizona, Mittry Lake is basically what we're talking about. Lakeside sites, moderate and wonderful winter temperatures, close access to town, and wide enough sites to park a motorhome or RV.
With the lake proximity comes some unwanted guests (read: mosquitos), but with enough insect repellant and candles, you should be able to enjoy the experience regardless. To get up and away, check out the various trails through the surrounding rocky hills, or hang out on or near the lake on a kayak, SUP, or simply fishing. The only amenities here is a boat ramp and garbage dumpster.
"We adventured out to Mittry Lake in Arizona and boy was it beautiful. We brought our paddle boards to use on the lake and it was peaceful." –The Dyrt camper Katie O.
9. Eads Wash—Tonto National Forest
Eads Wash only has one major downfall — the ability to swiftly be consumed with water in a flash flood. Thankfully, checking the weather forecast ahead of time can keep you protected from the worst. With that in mind, the sites at Eads Wash are idyllic and plentiful.
For those looking for free camping in Arizona here, we recommend using four-wheel drive mostly for the unpredictability of the dirt on the roads to get there. While the main road is relatively solid, the smaller roads can be silty and soft, taking only seconds to get stuck.
"The "campsites" aren't clearly marked but you can find plenty of places with dirt roads and cutouts big enough for a tent or trailer…There were multiple places you could get right up next to the river. " –The Dyrt camper Krista Z.
In an effort to mitigate soil erosion and forest fires, the Forest Service worked to establish free Arizona camping in the Freidlein Prarie that's mostly suitable for tent campers. Each of the sites offers a campfire ring and a gentle reminder to camp within 50' of the campground sign.
All of the 14 campsites are available on a first-come, first-serve basis and situated along the south side of the road aside from sites #1 and #3. From March 1 to August 31, sites #10-#14 are closed to protect the habitat of the Mexican spotted owls during the breeding season.
"Came in summer and luckily found one of the few open spots left. Very private camp spots so the whole forest feels like it's yours. Great place to base for mountain biking and hiking." –The Dyrt camper Sara S.
If you like wildflowers, pine trees, and free camping in Arizona, FR 237 (known as the Pumphouse Wash) is the place to go. Campers will find toilets, large campsites, and hiking trails near FR 237 to make for a complete and relaxing camping getaway.
There are two lakes nearby, Willow Springs Lake and Woods Canyon Lake for some angling, swimming, or putzing around on a SUP or kayak. With no light pollution or noise, FR 237 offers a quiet respite for city dwellers and those needing a break from the grind.
"It's perfect for those who love dispersed camping and it even has vault toilets near the entrance for those that need them." —The Dyrt camper Adrian H.
Bathrooms, established campsites, and fire rings are all available at Larson Ridge Camping Area. Larson Ridge can fill-up quickly year-round so heading out early proves to pay off in finding a prime campsite. And be sure to find an actual, marked campsite. The Forest Service does check and ask campers in unofficial sites to move.
The sites are set only ¼ mile back from the road, but our campers only report quiet solitude. Unlike Freidlein Praire, Larson Ridge sites can accommodate larger RVs and trailers without the rough roads to access.
"Larson Ridge is easily becoming one of my new favorite campgrounds." –The Dyrt camper Krista Z.
Related Articles:
---
Related Campgrounds:
---
This article was brought to you by Tentsile.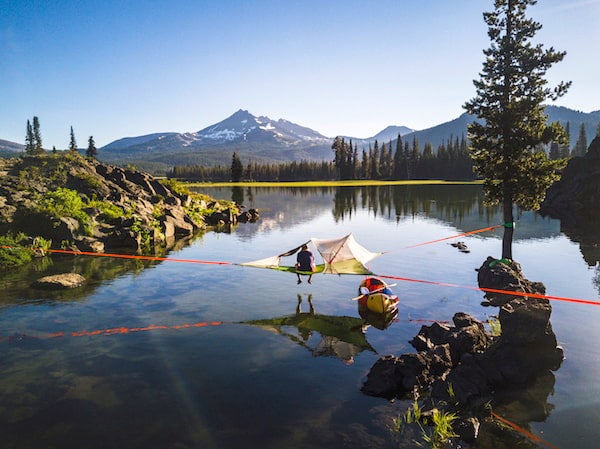 Popular Articles: