This article is brought to you by Wenzel. The perfect combo of a Wenzel camping quilt & one of their butterfly chairs will keep you warm and cozy, now matter where you make camp.
---
It doesn't take long to feel like you're surrounded by wilderness when you're camping in Alaska. If you're visiting Denali, paddling the rivers, or looking for a spot of green in which to relax, these campsites are all located an hour's drive from Fairbanks, Alaska.
This state recreation area and campground is open year-round. It offers grayling fishing, hiking and biking, as well as dog sledding in the snowy months. Three campgrounds serve Chena River Park along the Chena River, a class I to II river. Only 26 miles east of Fairbanks, this campground is conveniently located, yet makes you feel far removed from urban life.
"We were delighted how this campground (in a city) feels like wilderness."– Stacey C.
Campground Details:
Price: $5-20
Number of sites: 37
RV sites: Yes
Fires allowed: Yes
Pets allowed: Yes
Only 10 minutes from Fairbanks, this is one of the closest campgrounds to the second-largest city in Alaska. Tanana Valley Campground is only a short jaunt from the urban center, but like many Alaskan campgrounds, gives you the feeling that you're nestled miles into the woods. With both electric and non-electric sites, this campground also has a coin-operated laundry for campers' convenience.
"Clean, warm showers and baths. Location close to town, but you feel like you're in the forest."– Amber W.
Campground Details:
Price: $21-40
Number of sites: 53
RV sites: Yes
Fires allowed: Yes
Pets allowed: Yes
Rock-climb at the Granite Tors or harness up your dog team for a race through the 397 acres of tundra, forest, and mountains. With basic amenities and gorgeous vistas, Rosehip Campground is a gem set in the middle of the Alaskan playground. You can hike, bike, birdwatch, and so much more. You can also bring your kayak and easily hit the water from the full-size boat launch on the Chena River.
"There are so many connecting trails, it is worth exploring. This is also very close to Chena Hot Springs, which is definitely a must-stop if you have time."– Tanya R.
Campground Details:
Price: $15-30
Number of sites: 37
RV sites: Yes
Fires allowed: Yes
Pets allowed: Yes
Just off Steese Highway Scenic Byway is Cripple Creek Campground, a BLM-maintained site an hour from Fairbanks. There are ideal opportunities for fishing and paddling along the class I and II river. There are some walk-in sites that bring you right up to the banks, yet no matter where you are in the campground, you can always hear the steady burble of the Chatanika in the distance.
"The BLM has some of the nicest campgrounds in Alaska, and this one is no exception. There are 12 sites with plenty of space between, although they're small for large RVs and trailers (it was perfect for my teardrop trailer)."– Melinda S.
Price: $6-10
Number of sites: 21
RV sites: Yes
Fires allowed: Yes
Pets allowed: Yes
If you're looking for convenience, it doesn't get much more convenient than just an 8-mile drive from downtown Fairbanks. After just a 10-minute drive, you'll run into Riverview RV Park, which has plenty of campsites and sparkling clean amenities. The laundry facilities and mini-golf course are ideal for family camping trips. Located upstream from Fairbanks of the Chena River, you won't believe that you're just a stone's throw from Fairbanks.
"Really nice view of the Chena River. You give a $5 deposit and you get a key for showers and laundry, (you) will be refunded when you return the key."– Megan B.
Campground Details:
Price: $50-290
Number of sites: 160
RV sites: Yes
Fires allowed: Yes
Pets allowed: Yes
Every campsite has a tree for shade, and the free hot showers are top-of-the-line at Nenana RV Park & Campground. Located close to the sleepy village of Nenana, this campground sits between two rivers. The Nenana Campground is an hour south of Fairbanks, and only 75-miles from one of Alaska's most prized attractions—Denali National Park.
Campground Details:
Price: $20-44
Number of sites: 45
RV sites: Yes
Fires allowed: Yes
Pets allowed: Yes
Even though the Red Squirrel Campground is on the smaller side, it still has a lot of space. It only has 5 campsites set in the grand Alaskan wilderness. This is a secluded spot to relax and enjoy the incredible Alaskan flora and fauna, just about an hour outside of Fairbanks. If you're planning on visiting this campground, you will need to bring your own drinking water!
"What a lovely place to call home for a 'lil while, beautiful scenery and a great place to relax with the family, squirrels running around everywhere."– Joe C.
Campground Details:
Price: $5-15
Number of sites: 5
RV sites: Yes
Fires allowed: Yes
Pets allowed: Yes
These seven campgrounds only begin to scratch the surface of the camping options around Fairbanks. Check out The Dyrt to see dozens of other options for camping near Fairbanks, and for hundreds of other camping suggestions, check out The Dyrt's full list of the best camping in Alaska.
---
This article was brought to you by Wenzel.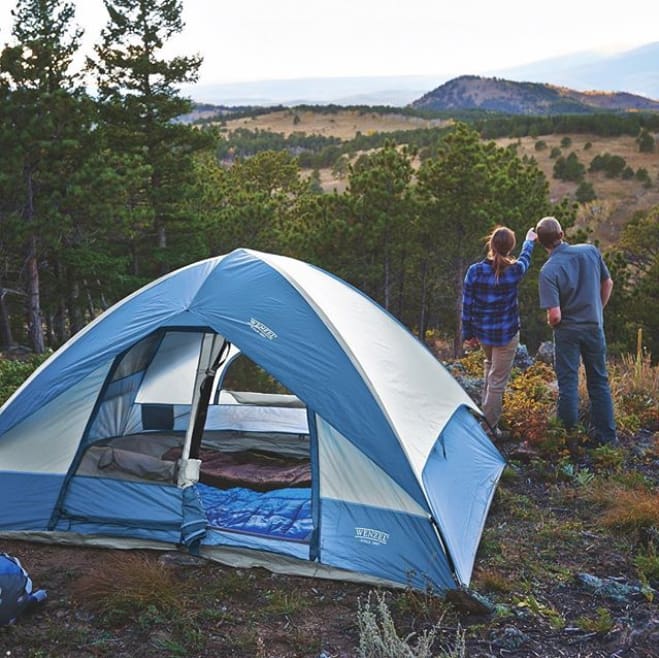 Go check out their screen house options for your next camping trip or backyard BBQ.
Popular Articles: