Campgrounds near Everglades , Florida
The Dyrt App
The #1 Camping App
Camp with confidence with the highest-ranked camping app for both iOS and Android. Search more than 1 million listings, reviews, and tips for campsites across the U.S.
Enter your phone number to get the app.
The Dyrt App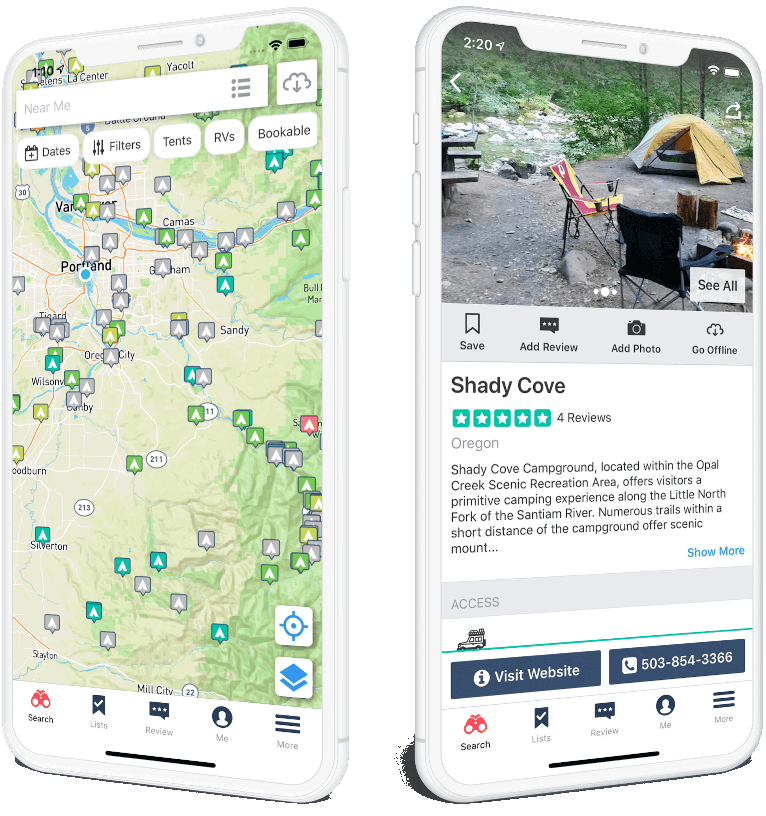 Most Recent Everglades Camping Reviews
Very peaceful
Very friendly camp host, he was eager to greet me n my crew of moto riders and offer us a cooler with ice and a dozen bottles of water. Gave us a site away from the main area for some peace and quiet and a great view of the sky's above. Definitely a nice place to search out for a nice nite star gazing.
RANGER REVIEW: GREGORY ZULU 35L BACKPACK AT PICAYUNE STRAND STATE FOREST
RANGER REVIEW: GREGORY ZULU 35 BACKPACK AT PICAYUNE STRAND STATE FOREST-HORSESHOE CAMPGROUND
CAMPGROUND REVIEW: Florida offers very diverse camping opportunities throughout the state. Not many states can offer year-round camping along lakes, rivers, oceans, swamps, undulating terrain to pancake flat, grasslands, sugar sand to elevated chickee huts. Camping in Florida is not for the faint of heart, but for the adventurous…much like any state. However, in Florida, you may encounter crawling or slithering reptiles and spinning spiders in various shapes and sizes, non-venomous and otherwise…gators or saltwater crocs…otters, manatee or sharks…wild hog, bear, bobcat or relocated panther. In the fairly young Picayune Strand State Forest many of these reside. Most are shy and elusive, rarely to be seen…but they are present. Many wrongly assume the voracious and plentiful mosquito is the state bird…not so much…but come prepared with repellant any time of year.
Almost comically, Picayune Strand State Forest (https://www.freshfromflorida.com/Divisions-Offices/Florida-Forest-Service/Our-Forests/State-Forests/Picayune-Strand-State-Forest) was the location where the 1950's phrase has its origination…"If you believe that, I've got some swamp land in Florida to sell you." Land developers laid flat the land southeast of the city of Naples, put a grid of sandy roads in and flew prospective buyers in helicopters above the land during the dry winter months to sell them on the dream of cheap prime SW Florida real estate. Problem is…this land is all part of the Everglade watershed and is under a few feet of water every year from June through November, once the rainy season begins June 1. Some bought, but very few built…so to return the sheet flow back to its original state…the State began purchasing land back through eminent domain from the mid-1980's until a remaining parcel was purchased in the mid-1990's when the Picayune Strand State Forest was named. The man-made pump-regulated canals are being blocked to allow the natural sheet flow to reclaim much of this area.
Unilike many State Forests, while you can hike and bicycle the roads and trails throughout Picayune Strand, you cannot camp wherever you like. Horseshoe Campground https://floridastateforests.reserveamerica.com/camping/horseshoe-primitive-campground/r/campgroundDetails.do?contractCode=FLFS&parkId=1120199 is located on the north end of the State Forest, which travels on the south side of Alligator Alley (Interstate 75) as it turns and slices across the Everglades to Miami.
Horseshoe Campground is a small parcel of high ground carved out of the swamp scrub. The grounds are well-maintained and clean. I found Ranger Reid, in the Ranger office, to be very friendly and helpful. He even offered a highlight that a panther, the night before my arrival, was chasing some deer about 300 yards west of the campgrounds.
KNOW BEFORE YOU GO:
⦁ No potable water (bring all the water you need)
⦁ No Electricity (None, zero, zilch…plenty of sunshine for solar chargers though)
⦁ No Showers (I'd also advise against swimming in any water nearby)
⦁ No waste recepticles (Carry out what you bring in)
⦁ No Internet offered (Adequate cell service is available)
⦁ Open fires permitted in designated camping areas, in fire rings, unless posted
⦁ Two portable pit latrines enclosed within wood fence enclosures
⦁ Prepare for mosquitos year round
⦁ Don't forget your sunscreen
Reservations can be made through Reserve America's website. Or you can chose to utilize one of the six (6) walk-up sites. Actually, I liked the added feature of the two tarp poles (or hammock poles) on the non-reservable walk-up sites. Between mid-November and April, it does not rain often, so its of no real advantage…unless you utilize a hammock. But from mid-May to mid-November, you are likely to experience some heavy downpours each afternoon…so sturdy tarp poles would be appreciated.
Each site is grass covered, has one fire ring and one picnic table.
Can't beat the pricing…$10 a night.
True to its name, Horseshoe Campground offers paddocks for the horses and ample room for horse trailers. The Equestrian Group Camping area also has picnic tables, some grills and a pavilion. Horses must be picked up after in the campground, just like dogs.
I saw one pop-up camper during my stay. I imagine you could back in a larger RV, but there is no gravel or concrete pad…and the grass is on a sugar sand base. So plan accordingly.
Several trails leave the campground from the northwest corner. Adequately marked and all are sandy. If you choose to ride a bicycle on the trails or gravel roads, you'll want the largest tires possible to have both comfort and control. You can drive to other trails, such as the3.2 mile Sabal Palm trail…though during the height of the rainy season, the back road there will likely be impassable.
Wildlife abounds and birding is huge during winter migratory months. You are also likely to see the nesting pair of bald eagles, gopher tortoise, wood stork, eastern indigo snake, red cockaded woodpecker, osprey, red-shouldered hawk, kites, and a myriad of wading birds.
Numerous activities are nearby, whether you want to take in an Airboat Everglade tour, Shark Valley National Park, kayaking, canoeing throughout the Big Cypress Basin. Gulf Coast beaches are an hour away…either in Marco Island, Naples, Bonita Springs or Fort Myers Beach.
Bike racers convene on Picayune Strand every May for the 50 mile Tour de Picayune https://tourdepicayune.org/.
PRODUCT REVIEW: NEW GREGORY ZULU 35 BACKPACK
Gregory Mountain Products have really stepped up their game in recent years! Not that they've been a slouch…Gregory Packs have long been synonymous with easing heavy loads, durability and comfort. Here's a look at Gregory's New Zulu 35 backpack https://www.gregorypacks.com/packs-bags/day-packs/zulu-35-1115ZUL35.html?dwvar_1115ZUL35_color=Fiery%20Red&cgidmaster=packs-day-packs#start=1 As a TheDyrt.com review Ranger, I have opportunity to review gear at no cost or substantially discounted pricing, as was the case with Gregory's New Zulu 35.
PROS:
•Featherweight
•Breathable/Airflow
•Comfortable
CONS:
•Very limited pole loop and bungee
First and foremost, Gregory's Zulu 35 prolific use of breathable cutouts in the hip-belt and shoulder strap padding, coupled with the large holed mesh liners elevate airflow to new levels. The taut mesh back panel creates ample space between the pack body and the wearer's back resulting in more airflow. Greater airflow, greater comfort. A thinner aluminum loop outlined the back panel for pack support and stability.
The Hip Belt: All hip-belts are not created equal. The Zulu 35 is a huge departure from previous Gregory models. The 3D Comfort Cradle was created to eliminate hotspots. Absent is the lower lumbar padding, thick hip bone padding and swivel…present is the FreeFloat ventilated suspension system. Hip-belt bellow pockets are cavernous in comparison to former Gregory models…8" zippers offer plenty of room for current smartphones, even when housed in protective cases. The pocket bellows 1.5" at the top and 2" at the bottom…and is nearly 11" from front to rear. Both pockets are coated nylon packcloth in contrast Gregory's former generation Baltoro with one waterproof pocket and first generation Paragon packs that offered one of the pockets in a light breathable fabric. Note: Cram too many hard edged or lumpy items in those pockets and you may feel them through the 'foam cutout' areas.
Shoulder Straps: They may not be thinner, but they feel thinner… amply comfortable. Adjustment for size is a snap…well, actually more of a pull. Slide a hand down and separate the hook-n-loop and adjust to your desired height (marked in 1" increments). The chest strap slides along 9" integrated piping making the perfect placement simple. At 6'0," and with my torso length, I felt I was at the very top end of the adjustment.The logo'd QuickStow eyewear band and elastic keeper strap adorns the left shoulder strap simplifying sunglass storage. The right chest strap incorporates a hydration hose retention hook…but the coolest is the chest strap buckle now has an integrated high shrill whistle! How cool is that?! Buckle coloration has changed too. Male end is a dark gray, female end a light gray.
Pack Body: The main body is a lightweight coated, nylon pack cloth shell with lightweight stretch fabric ambidextrous 8"x 6" deep waterbottle/storage sleeves and a 12" x 7" deep breathable stretch fabric exterior rear stash pocket with adjustable top buckle. Two compression straps on each side help keep the load stable. The Zulu 35 offers one large compartment with a top load cinch opening and a U shaped 40" zipper allows easy access to entire main pack contents. Absent is an unnecessary bottom zipper. The top load offers a 34" circumference so no worries about restrictions. The main body interior supplies a protective hydration sleeve along with both a Gregory hydration pack specific SpeedClip snap hook and also a nylon loop for other brands. Trekking/ski pole or ice axe loop (adjustable!) and cinch bungee are intended to keep items secure. (*I found the combo for attaching my poles to be rather ineffective, as the bungee, even cinched tightly, did not prevent my poles from swinging metronome style at the top, which you can see from my pics). All pack zippers include molded Comfort Grip nylon loops for easy pulling.
Pack Hood: The hood has one outer and one inner zippered pocket. The outer pocket will hold ample ancillary items, whereas the inner pocket is intended as a dedicated "labeled" Rain Cover storage pocket. But stuffing the Rain Cover into the main body stretch stuff pocket or water bottle/storage sleeve frees up an additional zippered pocket. Two small web lash loops on the outside of the hood are nice for securing solar panels or carabiners for hanging your Tentlab Deuce shovel.
Final Thoughts: Born a skeptic, things are rarely as advertised but the New Gregory Zulu 35 is the real deal. Until now, I loved my overly padded hip belts, shoulder straps and back panels of yesterday's packs…but the Zulu 35's comfort level was astounding, catching me totally off guard. Granted, I was only hauling 30lbs, but it was 'out of sight-out of mind.' The purposefully engineered breathable mesh and cut-outs worked…in blazing sun and 89 degrees, I was comfortable. I usually haul heavy loads (55-65lbs) for long treks…but I was able to pack enough in the Zulu 35 for four days worth and still had room. Apart from the ineffective bungee cinch/adjustable loop for poles…it is nearly perfect! In the future, I'll just stick my trekking poles (upside down) in the side pocket and cinch 'em down with the side compression straps with my tent poles. Problem solved.
Overall Rating: ⭐️⭐️⭐️⭐️⭐️
Stats:
Size: Gregory Zulu 35 (Med/Lg)
Capacity: 35 liters/2136 cu in
Pack Weight: 2.89
Recommended Maximum carry weight: 35 lbs
Reviewer: 6'0/185, 21" torso
Price Point: $169.95