About
Glade Creek Campground
Located at the end of Glade Creek Road, off Route 41 near Prince. Coming from Beckley, Glade Creek Road is a well-marked right hand turn before crossing the New River. Follow Glade Creek Road for six miles to the campground. There are six walk-in tent sites and five drive-in sites for tents or small-medium RVs. There is one accessible site.
ADA Access: There is one accessible campsite at Glade Creek Campground. The campground also includes an accessible picnic area, fishing area, and a small portion of the Glade Creek Trail.
Operator
National Park Service
Location
Glade Creek Campground
is located in
West Virginia
Directions
Located at the end of Glade Creek Road, off Route 41 near Prince. Coming from Beckley, Glade Creek Road is a well-marked right hand turn before crossing the New River. Follow Glade Creek Road for six miles to the campground
3 Reviews of Glade Creek Campground
This is an excellent campground. Peaceful and offers abundant wildlife.
No sources of freshwater available @ the campground. The nearest convenient store is some miles away. The campground is in the middle section of the New River Park system. The busy areas of the park are to the north in the Canyon rim district. The available 5 drive in sites go quick. I was in the campground 3 days and never saw an empty spot. The campground is clean and well maintained. A new vaulted toilet was being installed while I was there.
"The Price is Right!...Come on Down!"
RANGER REVIEW: Primus Trailspork Tritan at Glade Creek Campground, Prince, WV
CAMPGROUND REVIEW:
Glade Creek Campground is located off Glade Creek Rd. further down and beyond Grandview Sandbar Campground…and is also part of the New River Gorge National River. https://www.nps.gov/neri/planyourvisit/campgrounds.htm
During our visit, in early May, it had been and was still experiencing heavy rains and flooding. Even then, it is a beautiful location. https://m.youtube.com/watch?v=ieJ-SoMxsMc
The Glade Creek Road to the campground is not too bad but there is a narrow one-lane bridge you must cross.
Glade Creek Campground has six (6) walk-in tent sites and five (5) drive in sites inside the loop for tents or medium sized RV/Campers. Keep in mind there is no water available (unless you filter from Glade Creek or the New River, which is sketchy) or electric. The pit latrines are state of the art and newer. Drive-in sites are gravel, fairly level and have picnic tables, lantern poles and fire pits. Walk-in tent sites are sand.
The price can't be beat-Free! Maximum length of stay is 14 days. There is definitely enough to see and do to fill 14 days! There are no reservations…sites are based on availability…first come, first served.
Glade Creek Trail follows an old RR bed with easy terrain. Being early in the spring, there was still some deadfall across parts of the trail that required some maneuvering and even though it is a raised old narrow gauge RR bed, it still got muddy. Several trails break off Glade Creek trail…and worth taking. https://www.nps.gov/neri/planyourvisit/glade-creek-trails.htm Kates Falls being one of them. Bikes are permitted on the trails. There are plenty of additional noteworthy trails within a short drive. I always recommend stopping in at the New River Gorge Bridge Visitor's Center…Rangers are a wealth of information for great local trails.
Home to the wood-warblers… birding is popular. Dedicated photographers were out in the downpour capturing photos of rare plant-life too. Pretty cool stuff.
A great campground to use as your base camp for checking out all the amazing sights in this area.
PRODUCT REVIEW:
Primus Trailspork Tritan
https://primus.us/products/trailspork-tritan?variant=38439223954 Note: This URL does direct you to the product listing. However, the first sentence is incorrect, this Spork model does not fold.
As a Review Ranger for TheDyrt.com I was provided the Primus Trailspork Tritan to test and review.
PROS
•Lightweight 7grams
•BPA-free Tritan
•Durable
•Won't melt during cooking
•Won't scratch pots or pans
CONS
•Not rounded enough
•Right edge of spork is sharp for plastic
The Primus Trailspork Tritan is a strong contender for the eating utensil "do all" category. The construction is robust…the girder style handle cutouts lighten it up but it doesn't weaken the structure any. The cutouts resemble the pot cutouts on their Eta pots.
The "fork" portion works as good as any fork, even with short tines.
The "spoon" portion is where I, personally, see room for improvement. To me, the spoon cup is too deep and narrow, causing the sides to feel high when withdrawing the spork from your mouth. Which accentuates another problem. On the right outside sidewall of the spoon, the outside lip is a beveled edge to mimic a knife or spatula and is rather sharp…which with a shallower depth wouldn't be an issue (but then the spoon might be ineffectively shallow). But I felt like that beveled edge is slicing my upper lip as I draw the spork out of my mouth. This sensation certainly slowed my eating down (which necessarily a bad thing).
The aforementioned beveled edge worked effectively both as a knife cutting through soft items and also as a spatula when scraping the last remnants of fettuccini from the pot walls.
I liked using the Primus Trailspork Tritan for stirring pot or pan contents without concern of it melting or deforming.
I won't deny that I may be an oddity, but when camping or backpacking, I prefer using a spoon over a fork or combination.
Final Thoughts
It is very apparent I am not an engineer, nor pretend to be. So take my thoughts with a grain of salt. The Primus Trailspork Tritan is a good product and worth a look.
Careful about availability. the community is great!
Definitely nab one of the free grounds early in the day, especially on weekends. Its a dirt road drive to the main sites and it's a little dodgy at night. the lot we picked had 6 campsites, with sand, fire pits, and a dock by the river. The community of people out there was great, friendly, and sociable. We learned that playing instruments is also very welcome!
2019 Campground Review Contest
The Virginias
VA, WV, DC
Review Campgrounds.
Win Prizes.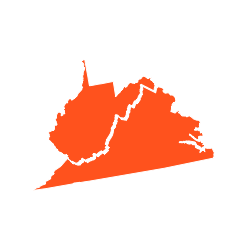 GRAND PRIZE $100 to OOFOS
4 RUNNERS UP WIN $50 to Grub Stick
GEAR DEALS FOR CAMPERS
Get 20% off the ultimate recovery shoe.