About
Voyageurs National Park Campsites
Voyageurs National Park is a land and water environment of great beauty, exceptional natural and cultural resources, and abundant recreation opportunities. Located in the lake-country of northern Minnesota, the park protects 218,054 acres that include roughly 134,000 acres of forest, 84,000 acres of water, 655-miles of undeveloped shoreline, and hundreds of islands. The parks 55-mile northern boundary is the international border between the United States and Canada and includes an important segment of the "transcontinental highway" traversed by French-Canadian voyageurs during the late 1700s and early 1800s. The rocks tell the oldest story here. Lying in the southern portion of the Canadian Shield, the bedrock of Voyageurs National Park is 2.8 billion years old, some of the oldest exposed rock in the world. Younger rock formations do not appear here. Perhaps they never existed; but more likely a series of glaciers removed them. Those glaciers, more than a mile high, also scoured out the lake and river beds here and set the stage for vast forests. Voyageurs is unique among national parks as a place where the southern boreal forest meets and mixes with the northern hardwood forest. Wildlife thrives here. Voyageurs is one of only two national parks in the continental United States with an indigenous population of the Eastern timber wolf. Once visitors arrive at one of the parks four entry points, most of them leave their cars behind and set out by water, much as the voyageurs did centuries ago. The park includes four major lakes - Rainy, Kabetogama, Namakan, and Sand Point, and twenty-six smaller inland lakes that together make up more than a third of the total park area. The smaller inland lakes are scattered throughout the park, but primarily on the Kabetogama Peninsula. The peninsula is Voyageurs largest landmass and can be reached by water in summer or over the ice in winter. There are four distinct seasons in Voyageur country. The air is temperate during June, July, and August when periods of fine, mild weather prevail. The frost-free season averages 120 days from June to mid-September. The average ice-out date is May 3 but varies year to year. Annual precipitation (rain and snow) averages 25-28 inches in the park and average snowfall ranges from 55-70 inches, but is highly variable. The first measurable snowfall occurs in late October and the last in late April or early May. The park offers more than 52 miles of hiking trails, 110 miles of groomed snowmobile trails, 7 miles of groomed crosscountry ski trails, and more than 290 designated campsites, houseboat sites, and day use sites. Starting in 2015 all visitors who wish to tent camp within the park boundaries are required to have a reservation. Reservations can be made through recreation.gov. During the high use season from May 1st to September 30th there will be a reservation fee and a campsite amenity fee. During the low use period from October 1st to April 30, reservations are still required and there will be a service fee for reservations. There is no camping fee during the low use period. All houseboats staying overnight in the park, are required to obtain a reservation from Recreation.gov. There is no permit needed for day use on a houseboat within the Park boundaries.
Operator
National Park Service
Location
Voyageurs National Park Campsites
is located in
Minnesota
Directions
Vehicle Voyageurs National Park is approximately 5-hours north of Minneapolis-St. Paul on I-35 and Hwy 53, 3-hours north of Duluth on Hwy 53, and 4-hours south from Winnipeg, Manitoba. Plane Falls International Airport is located in International Falls, Minnesota. Taxi service and rental cars are available here. Most flights entering the area will pass through the larger Minneapolis-St. Paul airport located around 5-hours south of Voyageurs National Park. Public Transportation There is no public transportation to Voyageurs National Park. No bus lines or passenger trains serve this area.
2019 Campground Review Contest
Minnesota & Wisconsin
MN, WI
Review Campgrounds.
Win Prizes.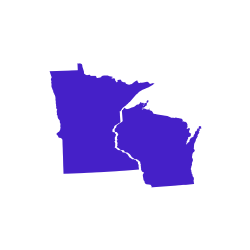 GRAND PRIZE $100 to Banner & Oak
4 RUNNERS UP WIN $50 to Midland Radio
GEAR DEALS FOR CAMPERS
Get 20% off outdoor caps & more.