About
Kiser Lake State Park
Location
Kiser Lake State Park
is located in
Ohio
3 Reviews of Kiser Lake State Park
Great Lake views
Don't get a site in the back under the walnut trees in the fall. They drop all day & night long.
Beautiful lake, no running water, feral cats
This park has a beautiful lake and nice (although short) hiking trails. The problem is that there is no running water- no showers and smelly pit toilets. There is one spigot for drinking water.
Beware that the campsites are mostly in one big grassy field with no shade. I'd pick a site along the perimeter or along the lake.
This park is overrun with feral cats (or it was when I was there). Some people might think that is cute. I consider feral cats to be wild animals that carry disease. What's really bad about them is that they've been fed so they are comfortable around people. We spent the whole weekend trying to fend them off- every time our backs were turned, they jumped up on our picnic table. They ate our food, which we had to throw away. When we sat by the fire, they rubbed up against our legs, which is disgusting, considering they carry Bartonella, which is transmitted through their fleas and ticks (Bartonella is a co-infection of Lyme, or you can get it on its own. I know- I've had it since middle school. Feral cats probably carry Lyme too, as they are mammals). I can't express how stressful it was, trying to keep these wild cats away from us the entire weekend. I don't know why the park can't get them under control.
Sure, cat people will be offended by my statement, but would you want raccoons or skunks up on your table, eating out of your pots and pans? Would you want raccoons rubbing up against you while you are trying to relax? These cats are also wild animals, yet way too tame for comfort. Ugh,I shudder remembering it.
Enjoy the lake
We really enjoy Kiser Lake, although there is only one spot for camping that we prefer. It is the only spot that it doesn't feel like you are right on top of your neighbors and actually has some tree coverage. As far as hiking goes, it's on the limited side, but we had a great time kayaking there. The lake was calm and everyone was very respectful of us in our kayaks.
Add a Review
CAMPGROUND REVIEW CONTEST
Midwest
OH, IN, IL
Review Campgrounds.
Win Prizes.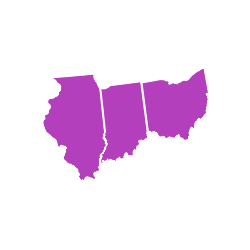 GRAND PRIZE $100 Mystery Prize
4 RUNNERS UP WIN $50 to Bass Pro Shops