Need a table big enough for 17 in Blackstone grill and two chairs to eat in our screen porch
We have something similar to this - there are differing price points and sizes. We like it because it has a carry bag and roll top (since we carry everything in basement storage in our Class A, it has to be portable and small):
We have two of those roll up aluminum tables, but we bought the smallest plastic table that folds in half at Lowe's. Sturdier.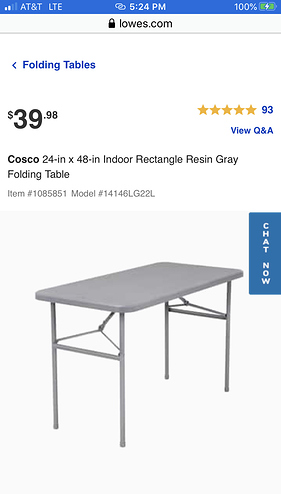 I will put an exclamation point on this table. It is absolutely fantastic! It is lightweight, great for cards or games, and compact. My wife and I were looking for something that we could put by our chairs with smore stuff so we didn't have to do it in our laps or put the stuff on the ground. This one is perfect.
Marchway is well-known for their range of lightweight and compact outdoor furniture. Their folding high back camping chair is one of the most popular and affordable RV camping chairs that you can find online
This Trekology is one of my favorites folding camping tables since you can put your beverages or a whole bottle of wine on it and it's as robust as any hard surface table. It's also the ideal height for usage with fold-up chairs at the park.