Denver has one of the fastest growing populations of any city in the U.S. According to the Denver Post, the metro counties surrounding Denver added 100,000 residents in just 7 years. Great Denver camping exists, but the popular sites are often overflowing.
If you loving living near the mountains, but don't always want to rub elbows with that crowd, this article includes a list of secluded sites perfect for a
8 Denver Camping Spots With A Secluded Feel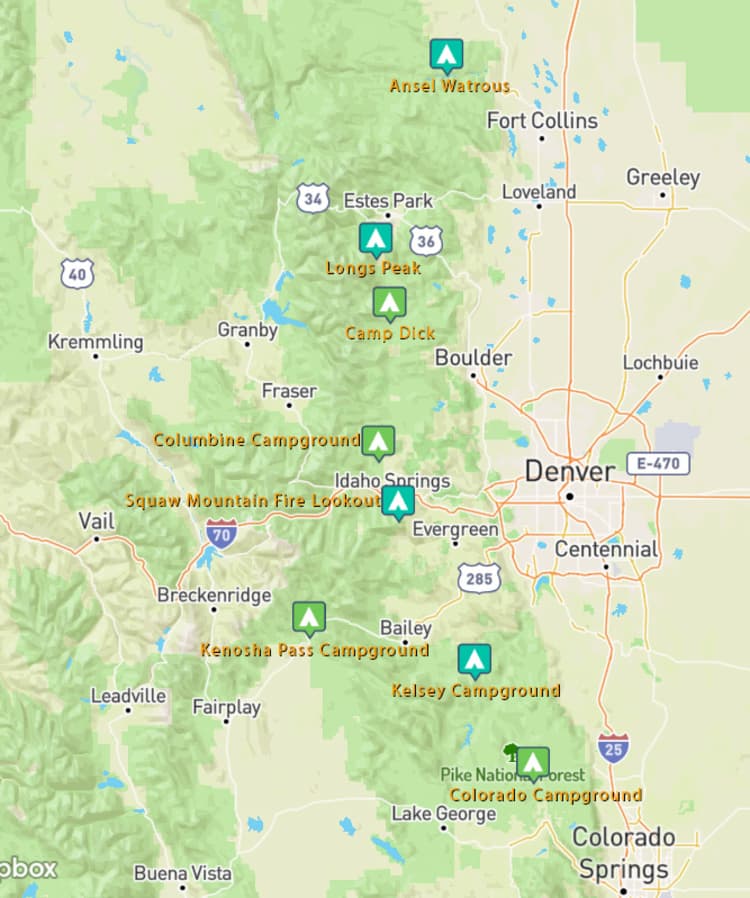 Most of the places listed below are accessible to car camping, so we are not promising empty campgrounds. If you want to truly avoid seeing people, explore backpacking trails, or always opt for dispersed camping. Although these are great ways to experience solitude, you do need to be prepared with all the gear and ready to weather the elements.
The Denver camping options below offer established campgrounds which, through reservation or remoteness, are not often overrun. They are campgrounds where you can spread out, live simply, and enjoy Colorado's natural majesty.
Drive time from Denver: 1 hour, 26 minutes
If you are an angler, or anyone who loves the clear-flowing creeks of the Rocky Mountains, then the biggest attraction at Camp Dick will be its proximity to St. Vrain Creek. Fly fish for cutthroat, brown and rainbow trout, all near your campsite.
Hiking, biking and 4×4 are all available from this National Forest campground. South of Estes Park by about 25 miles, and situated in a glacial valley, you get the same stunning scenery as Rocky Mountain National Park, without the crowds.
The campground is a mix of reservable and non-reservable sites. The access roads and campsites are wide and flat, easily accessible for trailers and RVs. There is no dump station, or hook-ups of any kind however.
"Camp Dick is a great trail head for a large number of hikes including St Vrain glacier, Sawtooth Mountain, Red Deer Lake and numerous 4×4 trails. The campground itself tends to have plenty of space between sites. It is very scenic and still tucked out of the wind and weather." —The Dyrt camper Joe K.
Drive time from Denver: 1 hour, 40 minutes
To the north and west of Fort Collins, Ansel Watrous offers two camping loops with RV spurs as well as walk-in tent sites. Deep inside the stunning canyon lies camping near Denver, but away from the scramble of the metro areas. One loop is open year-round for winter camping. The sound from the adjacent river provides a relaxing background noise, and increases the feel of privacy in this heavily wooded campground.
From Memorial Day to Labor Day this campground does allow for reservations, which are recommended. There is hiking, rock climbing, biking, horseback riding and even whitewater rafting available nearby. The Cache La Poudre is also world class trout fishing.
"The walk in site is right on the banks of the large rushing river that will lull you to sleep at night." —The Dyrt camper Amy S.
Drive time from Denver: 1 hour, 35 minutes
The view of Longs Peak from this well-developed campground is possibly the best you'd get in the entirety of Rocky Mountain National Park. There are no reservations available, but most of your neighbors will be involved in some pretty epic outdoor adventures. Climbing the famous fourteener is one of the most popular activities from this area. There are also numerous hiking trails and fishing available as well.
Open from Memorial Day to Labor Day, this campground is run by the National Park Service, so expect great quality, but associated fees. Despite the high visitation this campground gets from constant campers nearly year-round, you'll feel secluded regardless based on the size and distance of these campsites.
Plan for high country camping at Longs Peak, which can involve very chilly nights and quickly changing weather, including high winds. Although water is provided in the summer, bring your own filter to sample one of the many free-flowing mountain streams.
"This is the only campground [in Rocky Mountain National Park] that you can get to without going through Estes Park, which is great to avoid the congestion in that touristy little mountain town." —The Dyrt camper Irene L.
Drive time from Denver: 55 minutes
Just two miles north of Central City and west of Denver by less than an hour, Columbine Campground is located on the Peak to Peak Scenic Byway. As a non-electric National Forest campground, it receives much less attention than the nearby Golden Gate Canyon State Park, yet is perfect for a camping trip near Denver. With just a short drive, campers can enjoy all that the nearby state park has to offer, such as hiking and biking trails and well-stocked ponds, then return to their quieter oasis in the evening. There are 46 sites on two loops, most accessible by both tents and RVs.
Off-road enthusiasts will appreciate many multi-use 4×4 roads and trails nearby. The historic mining town of Central City also offers tours and re-enactments of the states early days.
"Great campground! Easy to access from Black Hawk/Central City. Tons of forests to explore nearby." —The Dyrt camper Elizabeth M.
Drive time from Denver: 1 hour, 24 minutes
Located near the famous Guanella Pass and on the Colorado Trail, Kenosha Pass Campgrounds are a number of small, family-friendly campgrounds in the high country. Kenosha Pass East, on the east side of the highway 285 is a first-come, first-serve area with twelve basic sites. Kenosha Pass Campground has 22 sites and accepts reservations. There is also a large amount of dispersed camping in the surrounding Pike and San Isabel National Forest.
Popular with backpackers looking for camping near Denver on the Colorado Trail, both campgrounds are basic, with few amenities. A water spigot is available, but no hook ups or dump station.
Nearby Guanella Pass can really draw the crowds, especially in the fall when the aspen groves really put on a show. Kenosha Pass campground is only a few minutes away, with the same beautiful views and foliage, but with half the traffic. Enjoy the interpretive area with a walk through the wetlands, or a guided view of the old Pacific railroad for history buffs. Remember that you are camping at high altitude, about 10,000 ft, and plan to stay warm and hydrated.
"This campground is beautiful and it is right on the Colorado Trail. Several spots are large enough for a big camper, but the tight curves on the loop and thick trees make it a little questionable for maneuvering." —The Dyrt camper Jackie E.
Drive time from Denver: 1 hour, 12 minutes
Kelsey Campground is an extremely popular Denver camping option for mountain bikers interested in accessing the forty miles of single track in Buffalo Creek Recreation Area. For those who aren't gearheads, however, there are a plethora of options pertaining to other interests. Naturalists interested in the diverse wildlife can find viewing opportunities for bighorn sheep, elk, mule deer, porcupines and turkey, while families can enjoy gentle hikes and great views. This campground is limited to tent-only sites, or small trailers.
Check out this information provided by the South Platte Ranger District on access points and trail etiquette. Wildfires and other natural events have significantly impacted this area.
Reservations are accepted to ensure you have a spot to camp during the summer season, but walk-ups are still allowed as well.
"This place is easy to get to and there is a lot to do!" —The Dyrt camper Jill B.
Drive time from Denver: 58 minutes
Available only by long-term reservations but sure to bring the solitude you crave, the Squaw Mountain Fire Lookout is exactly what it sounds like. Similar to any cabin rental in the National Forest system, it offers basic amenities inside a structure in a remote setting. In this case, of course, the structure is a cement and rock tower with windows on all sides. Those windows provide uninterrupted views of the Great Plains, Denver, Mount Evans, Pikes Peak, Longs Peak and other stunning Rocky Mountain features.
For camping, it is pricey, at $80 per night, but for such a unique experience it is well worth it. It is not, however, a car camping opportunity. The hike in is about a mile, and you need to bring all your provisions, water, food, bedding, etc.
"It is windy up at 11,500 feet and it rattles the windows at times, but again…the views. The space itself is only about 20′ x 20′ but you are never bored as the scenery changes in every direction every 5 minutes." —The Dyrt camper Jim H.
Drive time from Denver: 1 hour, 45 minutes
North of Woodland Park, Colorado Campground is a great spot for camping near Denver with access the lovely Manitou Lake Picnic Area. The lake itself is a pleasant hike from the campground and allows canoeing and SUPing, fishing and bird watching.
The campground is large, 80 sites, and provides vault toilets, water, fire rings and picnic tables. No hook-ups are available. The sites are a mix of reservable and first-come, first serve. Beautiful red rock formations are scattered throughout the area, perfect for scrambling and exploring. This is a great family camping destination near Denver.
Several of the many attractions include access to the paved Centennial Bike Trail, as well as nearby off-roading opportunities. As always, when practicing off-road activities, do your research on accessible areas and follow all local signage.
---
Related Campgrounds:
Popular Articles:
---

---