I suspect that the last trip of the season is over. it was great …
A small group 3 people and vehicles; one inside the SUV sleeper, one popup camper and me the lone tent camper.
We tried a different (easy to get to spot near 11 mile reservoir here in Colorado, very civilized: no 4WD required, no off road tires required just drive off the road into the woods and set up camp (primitive camping; no utilities, no numbers, no reservations, no toilets showers etc… we were actually camping).
The weather was superb; not too hot or cold, some sprinkles drove us into the tent temporarily.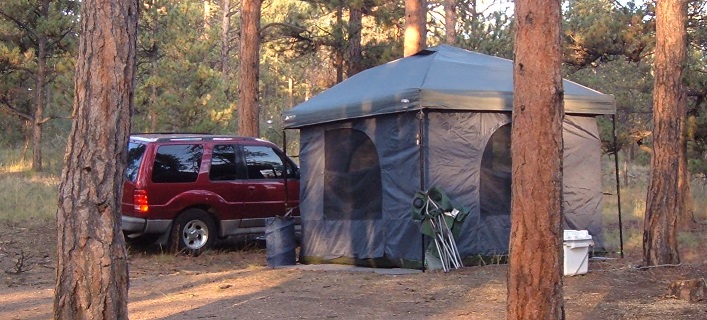 … field tested the new tent battery and solar setup (100 AH lithium phosphate battery (with solar controller) and the two DIM (Did It Myself) hinged 50 watt solar panels. Didn't need to recharge the battery, actually, the capacity is more than adequate to support my small usage for a week between recharges but I wanted to do a field trial .
Lesson learned;
I need to get some new saddle tees to make the fold up legs more secure.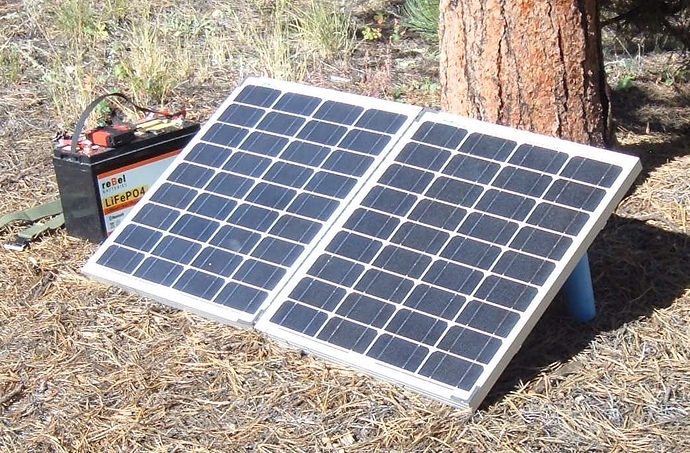 …finally (after chasing my pillow for more than 20 years; I made a fold-able cot headboard for this trip… No more pillow on the floor in the middle of the night.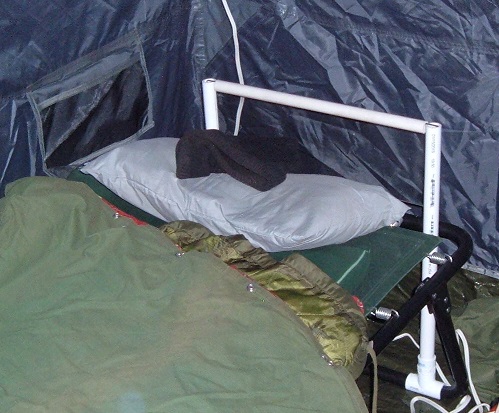 The actual headboard is transparent polycarbinate so it doesn't show up well, but its there and does the job well … (Didn't have to chase the pillow even once the entire weekend).
The removable head board piece is slotted into the two vertical support which rotate as the cot is folded up to self store inside the cot. (the polycarbinate piece is pulled out and re-installed during?after deployment & breakdown).
As always the 110 volt accessories; LED ceiling and floor lamp along with the (new this year) bug zapper) worked flawlessly off the inverter attached to the tent battery.
The bug zapper cleared out/executed) the insect infiltrators within/about 15 minutes after the tent was closed up for the night, then was unplugged… no more obnoxious insect spray…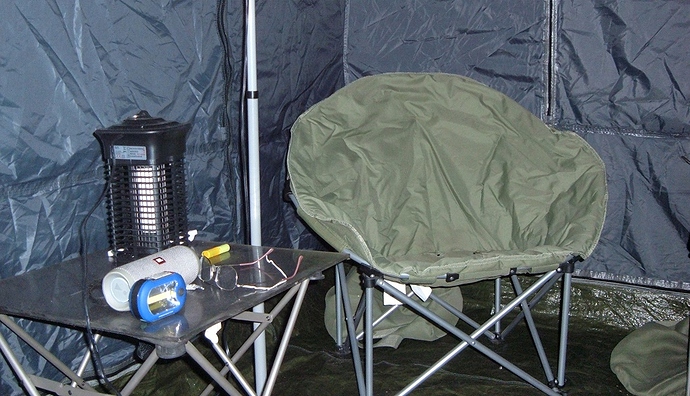 The only hassle was that a bear or wolf or other large critter rolled my cooler around a couple of times Friday night, at O-Dark-thirty… no damage done or tooth marks or even tracks … (I have taken to blaming it on Big Foot, looking for a beer.)
…Good trip. good weather, good friends, good times …
Enjoy!