Who else out there loves relaxing around camp and Dutch Oven cooking?? We do!! If you haven't tried it, what's keeping you from trying?? Would you start if someone showed you how?? It's easier than you think!
We try our best to make at least one meal and desert on every weekend get away in our Dutch Ovens. I say ovens plural because I have an addiction. Yes, I'm addicted to collecting and using Lodge Dutch Ovens. I have over 13+ of them now. One of them is a prized possession. It's my 4th great grandmother's dutch oven. It's still in perfect condition. They last multiple lifetimes. It's so cool to cook a meal in it thinking that my 4th great grandmother did the same thing with it for my 3rd great grandmother! Wow.
Sunday usually ends up being the day for Dutch Oven cooking. Their is something special about spending time over a fire or briquets, preparing food, visiting with family & friends, viewing nature, and spending time while things are cooking…It just brings everyone closer and slows time down.
I need your help!! Should we start carrying Lodge Dutch Oven's in our www.hitched4fun.com store?? I love them, but would you??
We want to keep this dying art of cooking over fire alive!!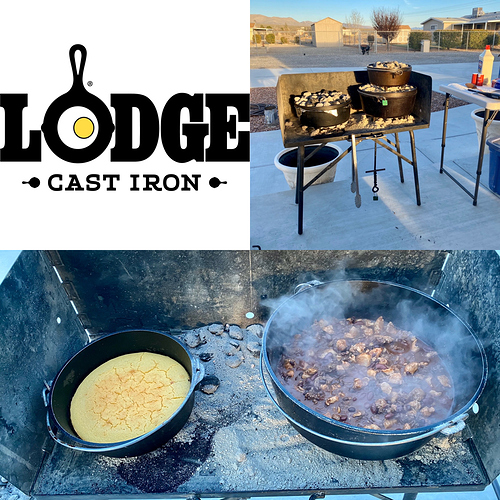 My collection…